Cory Booker uses confidential documents to quiz Kavanaugh on racial profiling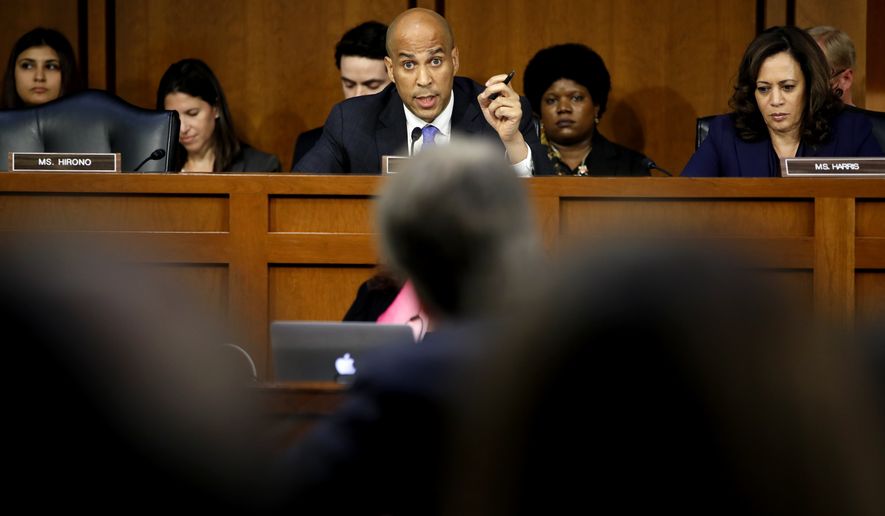 Sen. Cory Booker, D-N.J., center, next to Sen. Kamala Harris, D-Calif., questions President Donald Trump's Supreme Court nominee, Brett Kavanaugh, as he testifies before the Senate Judiciary Committee on Capitol Hill in Washington, Wednesday, Sept. 5, 2018.
Photo/Jacquelyn Martin)
Alex Swoyer
Sen. Cory Booker probed Brett Kavanaugh Wednesday over his thoughts on race in America — and demanded he explain emails from 2002 where he said the Supreme Court nominee discussed racial profiling.
But the emails are among tens of thousands that have been turned over to the Judiciary Committee, though they are not yet public. That left the nominee struggling to answer, and Republicans complaining of unfair treatment.
Mr. Booker quoted from the emails during his questioning of the judge. He said they were labeled "racial profiling," and said they related to the practice after the Sept. 11, 2001, terrorist attack.
After Judge Kavanaugh said he wanted to see the emails before responding, it was revealed that the email couldn't be shared because it was deemed "committee confidential."
Sen. Mike Lee, Utah Republican, objected to the questions, saying either the document needed to be made public or else the questions should have been asked in closed session.
Mr. Booker responded by saying he wanted all of the tens of thousands of committee confidential documents to be released — and blaming the GOP for a process that led to them being kept secret.
"The fact that we aren't allowing these emails out … that's why I say the system is rigged," Mr. Booker said.
Mr. Booker's questioning of Judge Kavanaugh focused on racial diversity and voter ID laws, calling them the "crown jewel" of the civil rights movement.
Judge Kavanaugh relied on Supreme Court precedent when answering the senator's questions, not revealing his personal opinions on the race-based issues.
"You refused to answer a lot of my questions over the race and the law," Mr. Booker said. "Your answers don't provide me comfort."
Judge Kavanaugh, though, did detail his own efforts to boost minorities in the legal profession, saying he has helped diversify the racial makeup of law clerks on federal courts and worked with his alma mater of Yale University to create a pipeline for them.
"I saw a problem of the kind you're talking about. It's one small thing, I suppose, but those are the future people who will be sitting around here," Judge Kavanaugh said.
Source>https://www.washingtontimes.com/news/2018/sep/5/cory-booker-quizzes-kavanaugh-racial-profiling/