How Unfortunate That Being A Somewhat Successful African/American Allows Some To Feel Entitled to Make Up Their Own Rules. This is by no means positive for Mr. Booker's Presidential
Resume.
...tmiraldi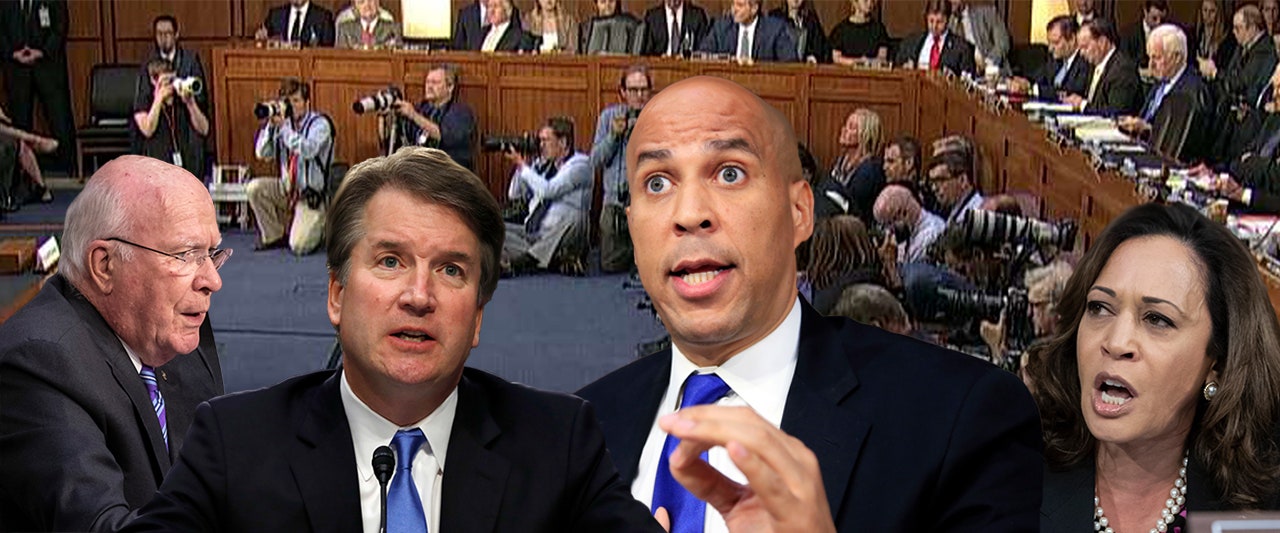 Alex Pappas
New Jersey Sen. Cory Booker injected chaos into Judge Brett Kavanaugh's Supreme Court confirmation hearing Thursday by releasing confidential Kavanaugh emails with the backing of fellow Democrats in possible violation of Senate rules, calling it an act of "civil disobedience" and drawing condemnation from the Republicans on the committee.
"I am going to release the e-mail about racial profiling and I understand that the penalty comes with potential ousting from the Senate," Booker said at the beginning of the third day of Kavanaugh's confirmation hearing.
After announcing plans to do so, Booker released 12 pages of emails -- which had been marked "committee confidential" -- online for the public to read. The emails included internal post-9/11 discussions surrounding issues of racial profiling.
The New Jersey Democrat said he would "knowingly" violate the Senate rules to release the emails. Some of the other Democrats on the committee expressed their support for Booker's effort.
Booker on Thursday drew attention to one 2002 email in particular from Kavanaugh that had the subject line "racial profiling."
In the email, Kavanaugh, who was working as a lawyer in the Bush White House, said he "generally" favored race-neutral security measures, but said they need to "grapple" with the "interim question of what to do before a truly effective and comprehensive race-neutral system is developed and implemented."
Kavanaugh wrote that the "interim question" is of "critical importance to the security of the airlines and American people in the next 6 months or so, especially given Al Qaeda's track record of timing between terrorist incidents."
A day earlier, in a dramatic exchange, Booker implied Kavanaugh had been open to racial profiling tactics, citing the email exchange between Kavanaugh and a colleague. However, Booker did not provide Kavanaugh a copy of the emails to review while questioning him about it, prompting an objection from Sen. Mike Lee, who charged that it was inappropriate to "cross-examine" Kavanaugh about documents that he "can't see."
Booker said Thursday he would release it anyway, saying the document is a "great illustration of the absurdity of the process" because there's nothing in it that's "national security-related."
"I come from a long line, as all of us do as Americans, that understand what that kind of civil disobedience is and I understand the consequences," Booker said.
Top Republicans mocked and denounced Booker, thought to be considering a 2020 campaign for president, for the move.
"Running for president is no excuse for violating the rules of the Senate or of confidentiality of the documents that we are privy to," Texas Sen. John Cornyn told Booker.
Senate Judiciary Committee Chairman Chuck Grassley, R-Iowa, dinged Booker for repeating his point.
"Can I ask you how long you're going to say the same thing three or four times?" Grassley asked.
"I'm saying I'm knowingly violating the rules," Booker replied. "Senator Cornyn has called me out for it."
"How many times are you going to tell us that?" Grassley replied.
Cornyn, at one point, read the Senate rule that says, "Any Senator, officer or employee of the Senate who shall disclose the secret or confidential business or proceedings of the Senate, including the business and proceedings of the committees, subcommittees and offices of the Senate shall be liable, if a Senator, to suffer expulsion from the body; and if an officer or employee, to dismissal from the service of the Senate, and to punishment for contempt."
Booker replied, "Bring it."
The Democrat also said, "This is about the closest I'll probably ever have in my life to an, 'I am Spartacus' moment."
It's unclear what consequences, if any, Booker will face. The Senate has only expelled 15 members in its history and hasn't done so in 156 years.
A number of Democrats, including Illinois Sen. Dick Durbin and Minnesota Sen. Amy Klobuchar, threw their support behind Booker's move.
"I completely agree with you. I concur with what you are doing…So if there is going to be some retribution against the senator from New Jersey, count me in," Durbin said.
"We support what Sen. Booker is doing here," Klobuchar said.
Outbursts from protesters continuted to interrupt the proceedings, as they have all week.
"Never have I seen the constant interruptions we witnessed at this hearing," Utah GOP Sen. Orrin Hatch said. "Confirmation hearings are supposed to be an opportunity for the American people to hear from the nominee. Unfortunately, it seems that some on the political left have decided to try to turn this hearing into a circus."
It came as Kavanaugh entered the final stretch of questioning in his confirmation hearing Thursday, with Democrats springing a series of cryptic questions – in an apparent attempt to box the nominee into an embarrassing admission or at least throw him off what has been a relatively steady performance.
He would not say Wednesday whether he thinks the president can be subpoenaed or whether the president can "self-pardon," key questions amid the ongoing Russia probe.
Other lines of questioning were more mysterious, suggesting an effort to lay a trap.
In an especially combative moment late Wednesday, Sen. Kamala Harris, D-Calif., asked Kavanaugh whether he ever had discussed Special Counsel Robert Mueller or his Russia probe with anyone at Kasowitz Benson Torres, the law firm founded by Marc Kasowitz, a former personal attorney to President Trump.
Hatch on Thursday gave Kavanaugh a chance to elaborate on the mysterious question.
"I don't recall any conversations of that kind with anyone at that law firm… I haven't had any inappropriate conversations about that investigation with anyone," Kavanaugh said. "I've never given anyone any hints, forecasts, previews, winks, nothing about my view as a judge or how I would rule as a judge on that or anything related to that."
Also Wednesday evening, Hawaii Democratic Sen. Mazie Hirono pressed Kavanaugh at length about whether he was aware of inappropriate behavior by former 9th Circuit Judge Alex Kozinski when he clerked for Kozinski from 1991 to 1992. Kozinski abruptly retired last year after several woman who had worked as law clerks or colleagues accused him of sexual misconduct that included touching, inappropriate sexual comments and forced viewings of pornography in his chambers.
Hirono, who repeatedly has asked other judicial nominees whether they ever sexually harassed anyone, noted that Kavanaugh and Kozinski had kept in touch after his clerkship, with Kozinski recommending Kavanaugh during his 2006 confirmation hearings for his current job on the D.C. Circuit Court of Appeals.
"You saw nothing, you heard nothing, and you obviously said nothing," Hirono said, even as Kavanaugh denied being aware of any misconduct by Kozinski and said he would have reported it if he had known.
For the most part, the hearings have focused on Kavanaugh's writings and, in particular, key opinions he authored while serving on the nation's most prestigious appellate court.
The confirmation hearing has been chaotic at times, with Democrats trying to delay the proceedings as they complain they haven't received enough records from Kavanaugh's past work.
Sen. Patrick Leahy, D-Vt., pressed Kavanaugh about what he knew about the Bush administration's warrantless surveillance program. Leahy also asked Kavanaugh if a president has a right to pardon himself, a power President Trump has said he believes he has.
"The question of self-pardons is something I have never analyzed," Kavanaugh replied.
Outbursts from protesters have been a recurring feature since the hearings began. Moments after Senate Judiciary Committee Chairman Chuck Grassley opened the hearing Wednesday, shouting could be heard from the back of the room: "Sham president, sham justice!" Ironically, at one point, protesters shouted as Kavanaugh discussed how he tried to be respectful in court. "I've tried to be a very collegial judge, I've tried to be civil," he said.
Kavanaugh served for more than a decade on the D.C. Circuit Court of Appeals and, before that, for five years as a lawyer in the White House Counsel's office in the George W. Bush administration. He also worked for independent counsel Ken Starr for three years during the probe that led to the impeachment of former President Bill Clinton.
Kavanaugh's elevation from the D.C. Circuit Court of Appeals to the Supreme Court would mark a generational rightward shift on the Supreme Court, raising the stakes beyond those of last year's nomination of Neil Gorsuch.
The judge's nomination, though, will ultimately succeed or fail depending on a handful of swing-vote senators, including vulnerable red-state Democrats and moderate pro-choice Republicans who have all said that they would withhold judgment on the nominee.
Republicans command a narrow 51-49 Senate majority. Party leaders have said they hope to have Kavanaugh confirmed by a floor vote by early October, when the next Supreme Court term begins.
Fox News' Gregg Re, Judson Berger, Kaitlyn Schallhorn, Bill Mears and Jason Donner contributed to this report.
Source>http://www.foxnews.com/politics/2018/09/06/kavanaugh-questioning-enters-final-stretch-as-dems-seem-to-lay-traps.html