Chelsea Clinton:

'Unchristian'

to End Legal Abortion
My question to Sanctimonious Chelsea, What part of being a Christian promotes Killing Unborn Children? Would it be 'Thou Shall Not Kill' commandment? How about 'Suffer the Children Unto Me'... Where in any scripture does it say it's OK to KILL God's Greatest Creation of Human Life?
...tmiraldi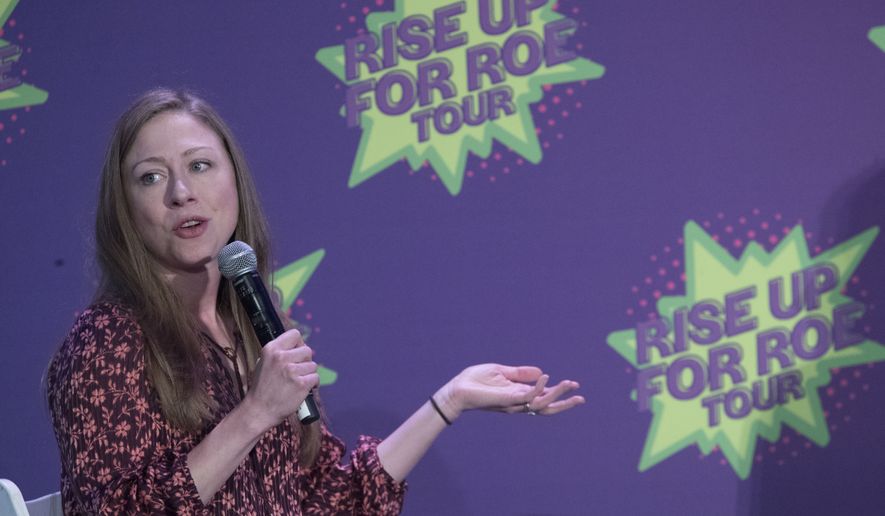 Chelsea Clinton speaks during the Rise Up For Roe national tour, Saturday, Aug. 11, 2018, in New York. (AP Photo/Mary Altaffer)
Jessica Chasmar
Chelsea Clinton argued Thursday that it would be "unchristian" to roll back abortion rights for women.
During an interview with SiriusXM's "Signal Boost," the former first daughter said it would be "unconscionable" for America to return to the "pre-Roe" v. Wade era, when abortion was illegal.
"When I think about all of the statistics that are painful of what women are confronting today in our country, and what even more women confronted pre-Roe and how many women died and how many more women were maimed because of unsafe abortion practices, we just can't go back to that," Ms. Clinton said.
"Like that's unconscionable to me," she added. "And also, I'm sure that this will unleash another wave of hate in my direction, but as a deeply religious person, it's also unchristian to me."
Ms. Clinton complained that she's recently been compared to "slave owners and Nazis" for her comments about abortion. Last month, she made headlines for arguing that the legalization of abortion was a boon to the U.S. economy.
She doubled down on that claim Thursday, saying, "I've had the temerity, as the Supreme Court did in 1992 in Planned Parenthood v. Casey, to point out that our ability to participate fully in our society, including economically, hinges on our ability to make choices for our bodies and our families."
Ms. Clinton said she gets through the criticism by making the "moral choice" every day to be optimistic.
The former first daughter was a headliner in the "Rise Up for Roe Tour" last month, targeting President Trump's Supreme Court pick Brett Kavanaugh and the purported threat he poses to Roe v. Wade.