Ruling still allows Dreamers protections, as courts sort out legal mess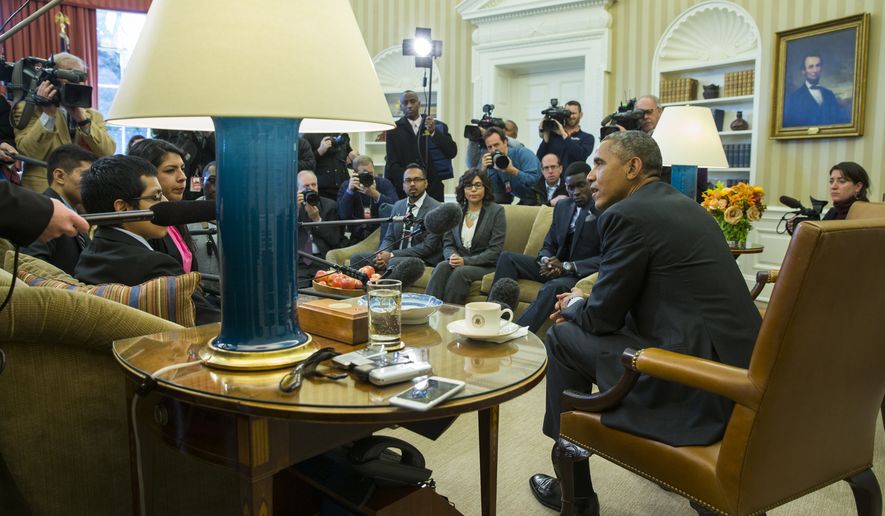 Photo by: Evan Vucci
President Barack Obama meets with a group of "Dreamers" in the Oval Office of the White House in Washington on Feb. 4, 2015.
Stephen Dinan
A federal judge ruled Friday that the DACA deportation amnesty was probably illegal when President Obama created it in 2012 — but he refused to halt the program altogether, leaving it to other courts to sort out a major legal mess.
Judge Andrew S. Hanen's ruling clashes with those of several other federal courts which said President Trump's attempt last year to phase out the DACA program was also illegal.
Taken on face, the rulings mean that the program is illegal — but so is the effort to erase it from the books.
The issues are likely to speed through the circuit courts and quickly reach the Supreme Court, perhaps during its upcoming session.
But for now it leaves the program mostly intact, with current DACA recipients able to renew their work permits and two-year stays of deportation, though no new illegal immigrants are able to apply.
Judge Hanen said Mr. Obama exceeded his powers when he created the program, granting a broad amnesty from deportation to an entire class of people — in this case so-called "Dreamers," who are young adults who came to the U.S. as juveniles, often without any say in the decision.
Judge Hanen said while the idea of aiding Dreamers may be right, Congress must act.
"DACA is a popular program and one that Congress should consider saving. Unfortunately, the judiciary is not the branch of government designed to salvage a program that should have emanated from Congress."
The Obama administration had portrayed DACA as guidance to immigration officials on how to prioritize deportations. It said Dreamers were such a low priority that they couldn't be deported — and further, said they should be given work permits, helping them enmesh themselves in American society. The policy was known as deferred action.
More than 800,000 Dreamers have taken advantage of the program since it first went into effect six years ago, using the work permits to earn driver's licenses, claim Social Security numbers and gain eligibility for some taxpayer benefits.
From the start it was controversial. Mr. Obama himself had repeatedly said he lacked the authority to grant such a broad carve-out from deportation. His election-season reversal went largely unchallenged in the courts until last year, when Texas led a lawsuit arguing DACA was illegal.
The Trump administration, having already signaled its desire to cancel the program, sided with Texas — leaving Democratic-led state and immigrant-rights groups to mount a legal defense.
Judge Hanen, in his decision, said he was bound by precedent in a 2015 case that struck down a similar but broader Obama-era amnesty, known as DAPA, which would have applied to perhaps 4 million illegal immigrant parents with U.S. citizen or legal immigrant children, and would have expanded the 2012 DACA program, too.
In that case, which Judge Hanen also had a part in, the 5th U.S. Circuit Court of Appeals ruled that such broad attempts to create immigration policy through deferred action violated the Immigration and Nationality Act.
Judge Hanen said there is little practical difference between operations of DACA and DAPA, so if the latter was illegal, the former is likely illegal as well.
The judge said neither DACA's apparent popularity with the public nor the sympathy arisen by the plight of Dreamers can overcome the clear language of the INA.
Source>https://w/ww.washingtontimes.com/news/2018/aug/31/obama-era-daca-program-likely-illegal-judge