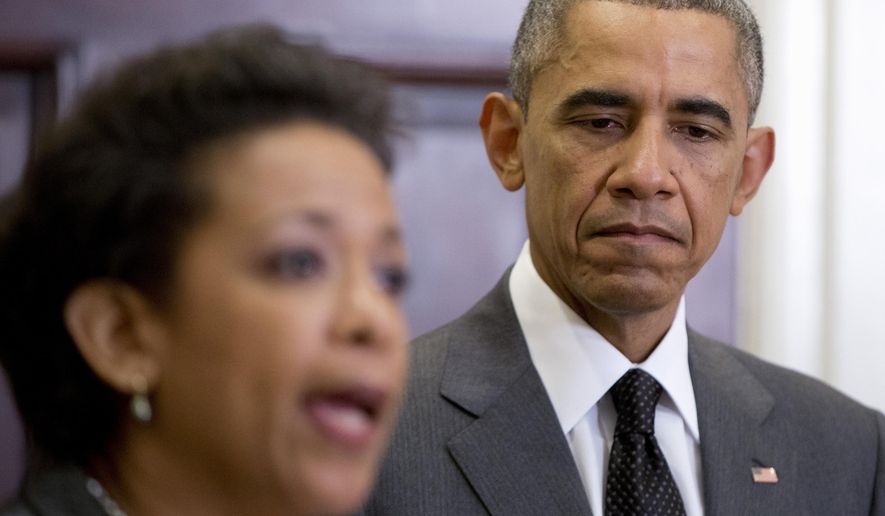 President Barack Obama listens as U.S. Attorney Loretta Lynch speaks, in the Roosevelt Room of the White House in Washington, Saturday, Nov. 8, 2014, where the president announced that he will nominate Lynch to replace Attorney General Eric Holder. (AP Photo/Carolyn Kaster)
Jeff Mordock
Attorney General Jeff Sessions on Wednesday blamed the Obama administration for crime increases in Chicago and other large cities, accusing it of tying the hands of police officers across the country.
Mr. Sessions blamed the Obama-era Justice Department for imposing " disastrous" consent decrees, a legal reform agreement between police and the federal government for reducing the effectiveness of law enforcement.
Since the Justice Department's consent agreement with the Chicago Police Department became effective on Jan. 1, 2016, 765 people were murdered in a single year in the city, Mr. Sessions said. That compares to the average of 454 people over the previous decade before the consent decree was adopted, the attorney general said.
"That means 311 Chicagoans — friends, neighbors, moms, dads — were killed in 2016 who might still be alive if the murder rate stayed at the 10-year average," Mr. Sessions said.
The remarks were part of a surprise visit Mr. Sessions' made to the Chicago Police Department to study how it uses technology to fight crime.
Mr. Sessions has long been a critic of consent decrees. Last year, he ordered the Justice Department to review all existing consent decrees between local police departments and the federal government.
Chicago is not the only city to be impacted by a consent decree, the attorney general said. Since a consent decree was adopted in Baltimore, following the death of Freddie Gray in the back of a police van, homicides in that city have increased by 62.5, Mr. Sessions said. In addition, rapes more than tripled and car theft and aggravated assault went up by a third, according to the attorney general.
"The proof is in," Mr. Sessions said. "It can no longer be denied: disrespect and lack of support for police officers has real world consequences.
Source>https://www.washingtontimes.com/news/2018/sep/19/sessions-blames-obama-era-consent-decrees-crime/