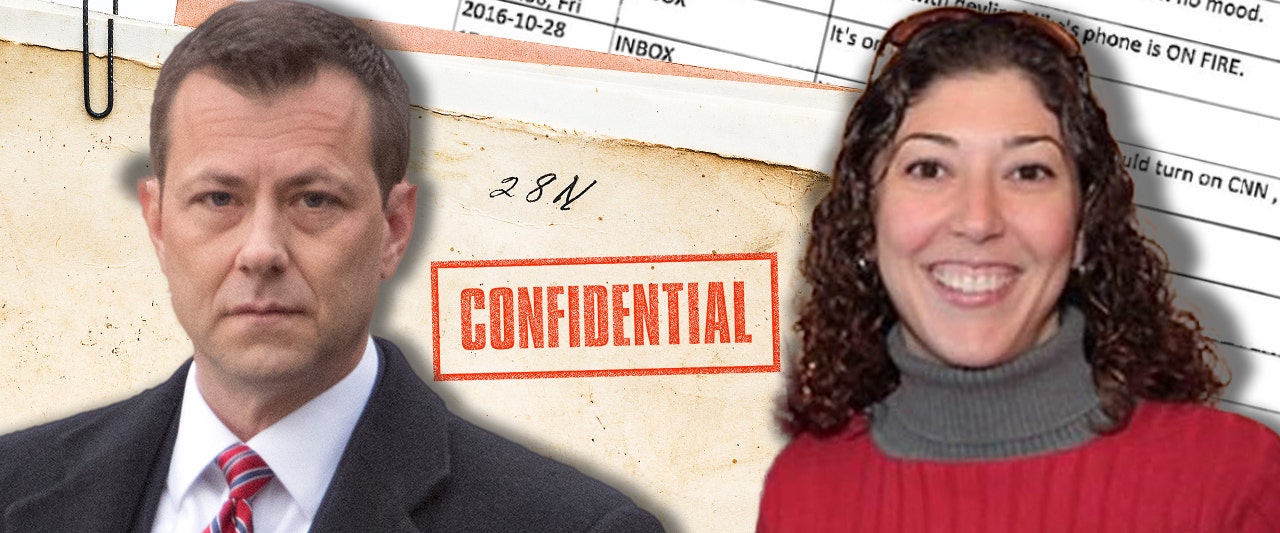 Gregg Re, Catherine Herridge
New documents provided to Congress raise "grave concerns" about an "apparent systemic culture of media leaking" among high-level FBI and Justice Department officials to release information damaging to President Trump, a top Republican congressman charged in a letter to Deputy Attorney General Rod Rosenstein on Monday.
In the letter, Rep. Mark Meadows, R-N.C., points in particular to two text message exchanges in April 2017 between now-fired FBI agent Peter Strzok and former FBI attorney Lisa Page, in which the two discuss the bureau's "media leak strategy."
"I had literally just gone to find this phone to tell you I want to talk to you about media leak strategy with DOJ before you go," Strzok texted Page on April 10, 2017, according to Meadows, who cited newly produced documents from the Justice Department.
Two days later, Strzok wrote, "Well done, Page," and told her that two negative articles about Page's "namesake" would soon come out. That was an apparent reference to Carter Page, the former Trump adviser whom the FBI surveilled for months after obtaining a warrant from the Foreign Intelligence Surveillance Act (FISA) court.
The FBI and DOJ declined to comment. Fox News also reached out to lawyers for Strzok and Page; they did not immediately respond to requests for comment.
On April 11, 2017, the Washington Post published a story titled, "FBI obtained FISA warrant to monitor former Trump adviser Carter Page. The article, citing "law enforcement and other U.S. officials," reported that the DOJ and FBI had convinced a FISA judge there was "probable cause to believe Page was acting as an agent of a foreign power, in this case Russia."
The text message exchanges "should lead a reasonable person to question whether there was a sincere desire to investigate wrongdoing or to place derogatory information in the media to justify a continued probe," Meadows, who serves on the House Oversight Committee, wrote.
Page has not been charged with any wrongdoing. Heavily redacted documents have since shown that a dossier written by ex-British spy Christopher Steele and funded by the Democratic National Committee and Hillary Clinton campaign played a key role in obtaining the FISA warrant to surveil him beginning in October 2016.
Documents also have shown that the FBI inaccurately reassured the FISA court on several instances that a Yahoo News article provided independent basis to surveil Page, when in fact it also relied on Steele as its source.
In his letter, Meadows noted that the Post's reporting "[set] off a flurry of articles suggesting connections between President Trump and Russia."
The leaks involved other outlets in addition to the Washington Post, Meadows wrote. FBI and DOJ officials, including DOJ prosecutor and top Robert Mueller deputy Andrew Weissmann, met with several Associated Press reporters in April 2017, according to court filings in the Virginia federal trial of Trump's former campaign chairman Paul Manafort.
The leaks to the media continued even as FBI attorneys cited the U.S. Attorney's Manual in telling Congress that witnesses could not answer questions about pending probes, Meadows wrote.
There is "troubling evidence" that the FBI and DOJ continue to coordinate leaks to the media, Meadows said. While those disclosures may not be unauthorized, he added, they still compromise the appearance of impartiality at the bureau.
Meadows concluded by requesting written communications from FBI and DOJ officials, including Stu Evans, Mike Kortan and Joe Pientka, from June 2016 to June 2017, although he emphasized that he was not suggested they engaged in wrongdoing.
Congressional sources tell Fox News they expect President Trump will soon agree to a longstanding request by the House Judiciary and Intelligence Committees to declassify more documents used to justify Page's surveillance, as well as activities by embattled DOJ attorney Bruce Ohr.
Ohr had contact in 2016 with Weissmann, then his colleague, as well as other senior FBI officials about the controversial anti-Trump dossier and the individuals behind it, two sources close to the matter told Fox News.
Congressional Republicans are still trying to get to the bottom of Ohr's role in circulating the unverified Steele dossier. A Republican-authored House Intelligence Committee memo released in February said that Steele "maintained contact" with Ohr "before and after" the government fired the British ex-spy as a source.
But Republicans have said the FBI failed to disclose to the FISA court not only the funding sources for Steele dossier, but also Ohr's involvement and the fact that his wife, Nellie, had worked on Russia issues for Fusion GPS, the opposition research firm behind the dossier.
Source>http://www.foxnews.com/politics/2018/09/10/strzok-page-texts-reveal-coordinated-fbi-leak-strategy-to-harm-trump-gop-congressman-claims.html