DEM CIVIL WAR!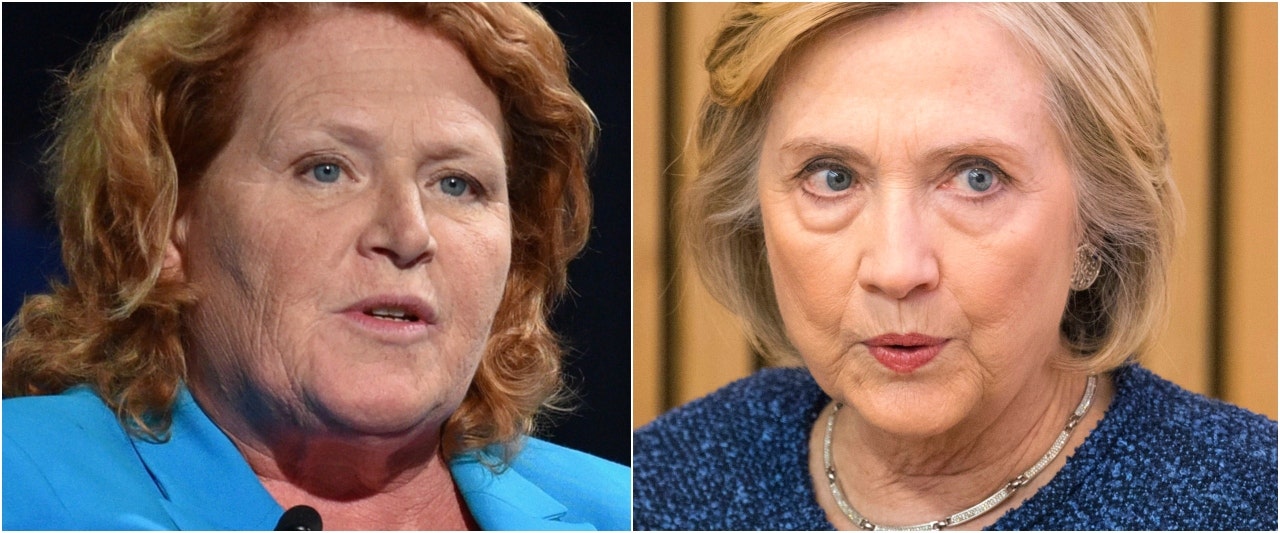 Gregg Re
Former Secretary of State Hillary Clinton's incendiary suggestion this week that liberals "cannot be civil" with Republicans any longer is unproductive and simply "ridiculous," a top Democratic senator said Wednesday.
The stark repudiation of Clinton's comments by Sen. Heidi Heitkamp, D-N.D., a vulnerable red-state Democrat seeking re-election this year, comes as Republicans have lined up in recent days to criticize Democrats' fiery rhetoric amid the confirmation of Brett Kavanaugh to the Supreme Court.
"You cannot be civil with a political party that wants to destroy what you stand for, what you care about," Clinton told CNN's Christiane Amanpour on Tuesday. "That's why I believe, if we are fortunate enough to win back the House and/or the Senate, that's when civility can start again. But until then, the only thing Republicans seem to recognize and respect is strength."
"I hope that we can find common ground in this country that sexual assault is more prominent than people thought it was," Heitkamp continued.
Fox News' polling shows Republican challenger Kevin Cramer now leading Heitkamp by 12 points (53 percent to 41 percent). Last month, before Heitkamp voiced her reluctance to support Kavanaugh, he was up by only 4 points.
"That spectacle proved to be perhaps the greatest political gift I've been given in a very long time," Cramer said. Heitkamp has said she was leaning toward voting for Kavanaugh until she re-watched his testimony before the Senate Judiciary Committee last month with the sound off, and analyzed his "body language."
President Trump enjoys a 64 percent approval rating in North Dakota, but part of the Democratic plan to keep Heitkamp's seat is to exploit uncertainty over agricultural tariffs favored by the White House. Republicans are looking to take the seat to expand their narrow 51-49 majority in the Senate.
Senior Republican strategists and politicians lined up to echo Heitkamp's sentiment on civility this week, which could help her regain some standing among conservatives with less than a month before November's midterm elections.
Hundreds of protesters have been arrested by Capitol Police in the past three weeks, with some briefly staying in jail. Kavanaugh, his family, his accusers and lawmakers all received death threats.
Meanwhile, Kentucky Republican Sen. Rand Paul, who last year was beaten in his yard and shot at while participating in a GOP congressional baseball practice, blamed Democrats for potentially inciting violence.
"I fear that there's going to be an assassination," Paul told a Kentucky radio show on Tuesday. "I really worry that somebody is going to be killed, and that those who are ratcheting up the conversation ... they have to realize they bear some responsibility if this elevates to violence."
He continued: "When I was at the ballfield and Steve Scalise was nearly killed, the guy shooting up the ballfield, and shooting I think five or six people, he was yelling, 'This is for health care.' ... When I was attacked in my yard and had six of my ribs broken, and pneumonia, lung contusion, all that -- these are people that are unstable, we don't want to encourage them."
Paul specifically called out Sen. Cory Booker, D-N.J., for saying this summer that his supporters should "get up in the face of some congresspeople." President Trump and other Republicans have also criticized Rep. Maxine Waters, D-Calif., for urging protesters to harass Trump administration officials in public, with Trump calling Waters an unusually "low IQ" individual who represents the new face of the Democratic party.
There are signs that Republicans are being targeted with increasing frequency in recent days. Republican Sen. Cory Gardner, R-Colo., revealed to Fox News on Sunday that his wife had received a graphic text message with a video depicting a beheading, and that someone has publicly posted the names and addresses of his family members.
The apparent intimidation efforts follow reports from Capitol Police that the Democratic congressional aide accused of publishing the private information (known as "doxxing") of at least three Republican lawmakers last month also allegedly threatened to leak senators' children's health information if a witness told anyone about his activities.
Jackson Cosko, who recently worked for Rep. Sheila Jackson Lee, D-Texas, was arrested for allegedly doxxing Republican Sens. Lindsey Graham of South Carolina, and Mike Lee and Orrin Hatch, both of Utah, on Wikipedia -- with information such as their home addresses and phone numbers. Graham, Lee and Hatch's information was published in September.
Fox News' Alex Pappas contributed to this report.
Source>https://www.foxnews.com/politics/dem-senator-heitkamp-slams-clinton-call-to-abandon-civility-with-gop