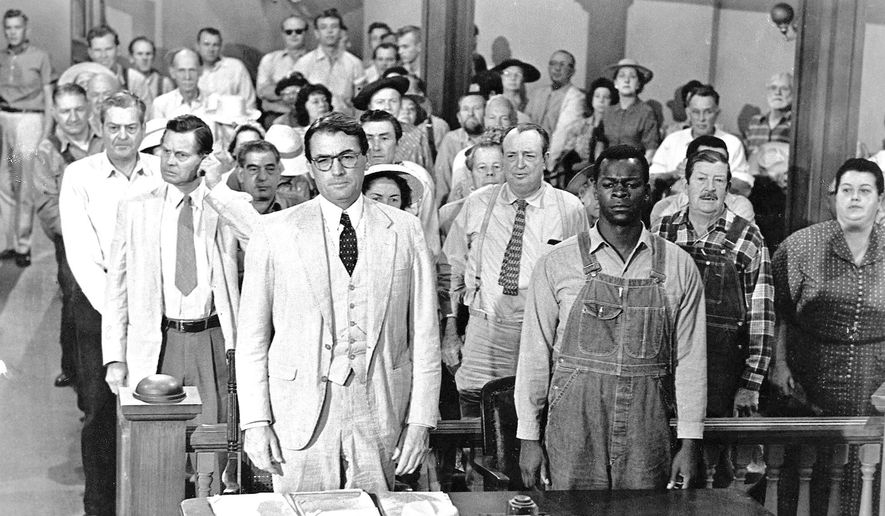 This picture provided by Universal Studios Home Entertainment shows actors Gregory Peck, foreground left, and Brock Peters, foreground right, in a scene from the 1962 film "To Kill a Mockingbird." (Associated Press) ** FILE **
Victor Morton
The North Carolina man behind the Arkansas ad that says #MeToo will lead to "lynching black folks" stood by his group's involvement in the congressional race and said it also is getting involved in neighboring Missouri's U.S. Senate contest.
Vernon Robinson, co-founder and treasurer of Black Americans for the President's Agenda, launched a full-force attack on the #MeToo movement in an interview with The Washington Times late Thursday evening, stating that black men will be harmed by junking the presumption of innocence and instead categorically believing all sexual misconduct accusers.
"Should we believe Tom Robinson's accuser?" he asked, referring to the black man in the novel "To Kill A Mockingbird." "She had a witness, which is more than Christine Blasey Ford had."
Ms. Blasey Ford, a California professor, appeared before the Senate Judiciary Committee and testified that Supreme Court nominee Judge Brett M. Kavanaugh had groped her when they were teens. The FBI investigated but couldn't corroborate her allegations. The full Senate later confirmed him as a associate justice on the high court.
Mr. Robinson went on to cite a real-life lynching of a black man over charges of sexual indiscretion.
"Should we believe Emmet Till's accuser? At least two white Democrats did," and murdered him and desecrated his corpse in response, he said.
The Times and other news outlets had reported earlier Thursday on his group's inflammatory ad, on which two black women warn about the hearings on Justice Kavanaugh, which were taken over by uncorroborated sexual-misconduct charges.
This shows that "white Democrats" want to bring back "the bad old days" of lynching black men over perceived or non-existent sexual improprieties with white women, the two black women say in stereotypical "dishing at the beauty shop" voices.
Rep. French Hill, the Republican running for re-election in Arkansas' 2nd Congressional District and the man whom the ad was intended to benefit, denounced it on Twitter.
"Some may have heard an appalling ad on the radio. I condemn this outrageous ad in the strongest terms. I do not support that message, and there is no place in Arkansas for this nonsense," Mr. Hill wrote.
Mr. Robinson responded that "more individuals including the congressman should talk about the tremendous overreach of the #MeToo movement."
When asked directly whether Mr. Hill was a "coward," he deflected the question with a chuckle.
"The congressman has to run his race; I have to do what's best for black Americans by pursuing the president's agenda," Mr. Robinson said. "The ad may make the congressman uncomfortable, but black men are feeling more uncomfortable at losing the presumption of innocence."
It's not just the Arkansas race.
Mr. Robinson said another version of the ad is already running in Missouri, against Sen. Claire McCaskill, a Missouri Democrat who voted against confirming Justice Kavanaugh and is being challenged by Attorney-General Josh Hawley.
"The left is screaming like a stuck pig," because Democrats need a near-monopoly of the black vote and cannot let blacks realize what the Kavanaugh hearings and the #MeToo movement mean for them.
He said older black voters are especially sensitive to easily made and impossible to rebut charges, as reflected in child-rearing practices by centuries of popular wisdom.
"Every black woman older than 65 told their son, 'You can't be caught with a white woman because you won't be believed against her,'" he said, adding that his own mother had had that talk.
Mr. Robinson said his group has a modest-sounding, but high-impact, goal for the Republican vote and President Trump: "I'd bet on 15 percent, or half the blacks who approve of the president policies."
"If he gets 15 percent, Josh Hawley is the next U.S. senator. If he gets 15 percent, French Hill keeps his seat," he said, although Mr. Hill won his race in 2016 by 20 points and the district is 75 percent white.
More broadly, he said, "if we can get 15 percent in the South and 20 percent in the Midwest, the Democratic Party is reduced to a regional party that can't get elected outside the Northeast … and the West Coast," regions he derided with comparisons to Venezuela and hippy environmentalism.
A former city council member in Winston Salem, North Carolina, Mr. Robinson actually repudiated the Republican Party this summer and changed his registration to the Constitution Party, saying "all of the Democrats and 90 percent of the Republicans in office betray their oath to uphold and defend the U.S. Constitution."
Consistent with that theme, he derided the Republican Party establishment as people afraid to try to win black voters and going where they are to do so.
"The GOP consultants have told their clients … 'don't communicate with black voters' especially with urban-contemporary radio," he said.
Mr. Robinson said the new ads he's running on such stations are not hyperbolic, though he parried a question on whether he thought the white Democrats of 2018, unlike those of the 1950s, are really champing at the bit to start lynching black men.
"We're only pointing out historically what this has meant," he said. "I think it's reasonable for black people to be concerned that black men will bear the disproportionate burden of the prison sentences. The ad addresses these visceral fears."
Source>https://www.washingtontimes.com/news/2018/oct/19/metoo-backlash-ad-creator-defends-message-says-mov/