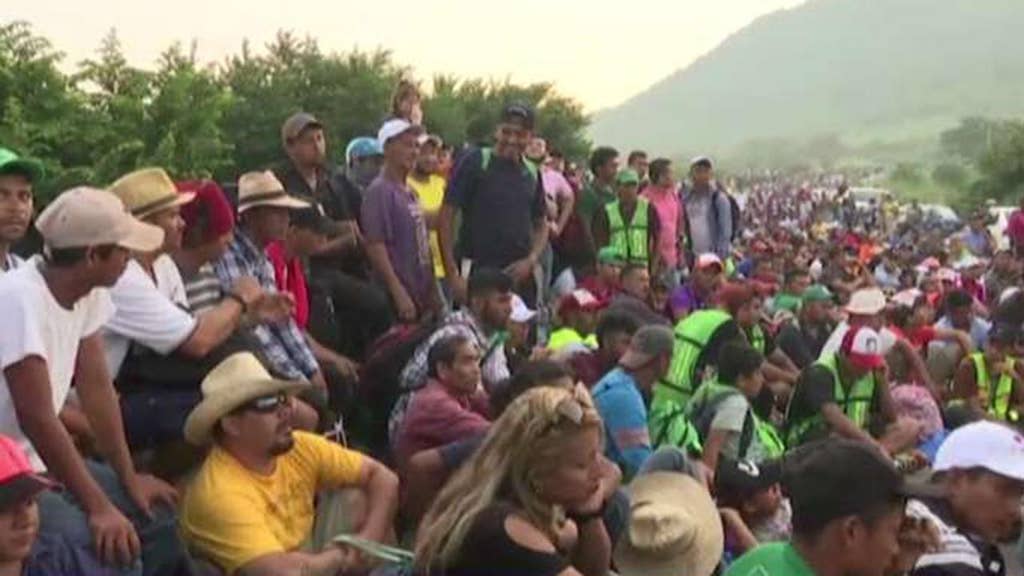 Lucas Tomlinson
Roughly 5,200 U.S. troops will be deploying to the southern border in response to the migrant caravan pushing north through Mexico, U.S. officials told Fox News on Monday.
"We'll reinforce along priority points of entry so as to enhance [Border Patrol]'s ability to harden and secure the border," Air Force Gen. Terrence O'Shaughnessy, head of U.S. Northern Command said at a news conference in Washington, D.C., adding that the deployment would be completed by the "end of this week."
The reinforcements headed to the U.S.-Mexico border are support troops – not combat troops – and will include three engineering battalions with "heavy equipment", as well as aviation and medical personnel. Most of the troops are on active duty and will carry weapons, but will not be part of any law enforcement effort in deference to the Posse Comitatus Act, which prohibits the federal government from using the armed forces in a domestic police role.
The troop deployment, first reported by The Wall Street Journal, had been expected after Defense Secretary Jim Mattis approved the request last week. But the number of troops is far higher than initial estimates.
There are three planned staging areas: in South Texas, Arizona and California, for what's now been dubbed Operation Faithful Patriot. The mission's U.S. ground commander is Army Lt. Gen. Jeffrey S. Buchanan, who was sent to Puerto Rico last year to lead Hurricane Maria relief efforts.
The troops are coming from military posts including Fort Bragg, Joint Base Lewis-McChord, Fort Stewart, Fort Campbell, Fort Riley and Fort Knox. The deployment includes three medium-lift helicopter companies with night vision equipment. O'Shaughnessy added that 22 miles of barbed wire already had been sent to the southern border and Air Force C-130s and other cargo planes would be used to deliver additional Border Patrol personnel.
President Trump, meanwhile, has called for the caravan to turn back and warned its members that the military "is waiting for you!"
He tweeted Monday: "Many Gang Members and some very bad people are mixed into the Caravan heading to our Southern Border. Please go back, you will not be admitted into the United States unless you go through the legal process. This is an invasion of our Country and our Military is waiting for you!"
There already are about 2,000 National Guard troops assisting at the border under a previous Pentagon arrangement. With thousands of additional troops headed south, there will be roughly the same number of American forces positioned along the southern border as there are deployed to Iraq and Syria combined.
While troops are being deployed, White House officials are continuing to discuss possible executive or regulatory action to prevent people in the caravan from coming across the border.
One idea under consideration is a measure that would only allow asylum claims to be made at a port of entry or border crossing. Under the idea, anyone who tried to make an asylum claim by crossing the border illegally would be deemed inadmissible – and their claim would be denied.
The caravan of Central American migrants continues its journey north from southern Mexico, but is still roughly 1,000 miles away from the southern border with the U.S.
The caravan is now estimated at 4,000 people.
Fox News' John Roberts and The Associated Press contributed to this report.
Source>https://www.foxnews.com/politics/5000-troops-deploying-to-us-mexico-border-in-response-to-migrant-caravan