Call comes after Trump threatens to stop U.S. aid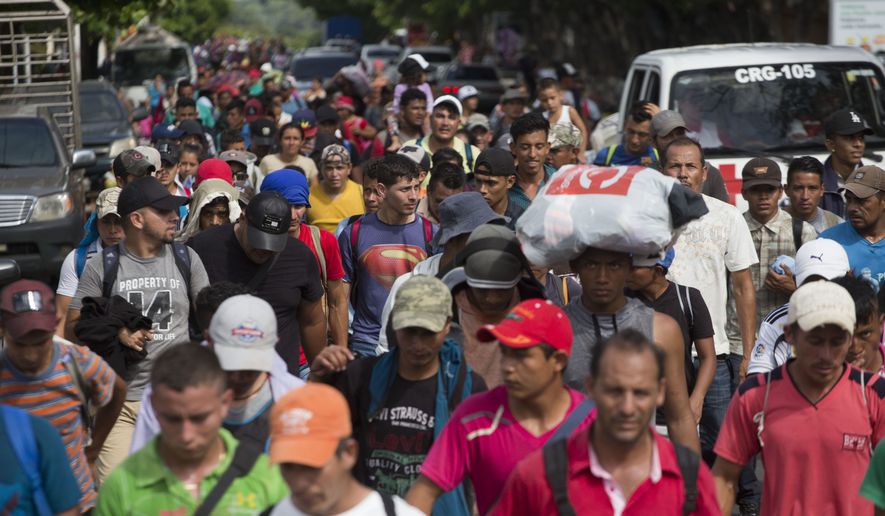 Honduran migrants walk toward the U.S. as they arrive at Chiquimula, Guatemala, Tuesday, Oct. 16, 2018. U.S. President Donald Trump threatened on Tuesday to cut aid to Honduras if it doesn't stop the impromptu caravan of migrants, but it remains unclear if governments in the region can summon the political will to physically halt the determined border-crossers. (AP Photo/Moises Castillo)
The Honduran government called on as many as 2,000 migrants Tuesday to give up their trek north and return home, just hours after President Trump threatened to withhold $65 million in U.S. money if the country's leaders don't find a way to head off the caravan.
In a statement reported by local newspapers the Honduran foreign ministry said the caravan is an irregular attempt at migration, and must heel to the laws of the countries it's trying to travel through.
The ministry accused the caravan's leaders of attempting to make a political statement, launching their effort almost at the same time Honduran leaders were in Washington last week for a meeting to try to establish better cooperation on security and migration.
The ministry called on the migrants to "desist" from their journey — though it also urged other countries to protect the caravan from harm.
Earlier, the caravan had busted through the border between Honduras and Guatemala, defying Guatemalan officials who'd tried to make a stand. Instead, Guatemala's government said in its own statement that it's now trying to identify and provide humanitarian assistance for the caravan.
Mr. Trump took to Twitter early Tuesday to say that he would withhold all U.S. aid, starting immediately, unless Honduras figured out a way to turn the caravan around.
Vice President Mike Pence delivered that same message personally in a phone call to Honduran President Juan Orlando Hernandez, and also called Guatemalan President Jimmy Morales to urge him to do what he can to dissuade the caravan.
The $65 million the administration had proposed for Honduras in 2019 amounts to about 1.5 percent of that government's total revenue.
Source>https://www.washingtontimes.com/news/2018/oct/16/honduras-begs-migrant-caravan-turn-back/