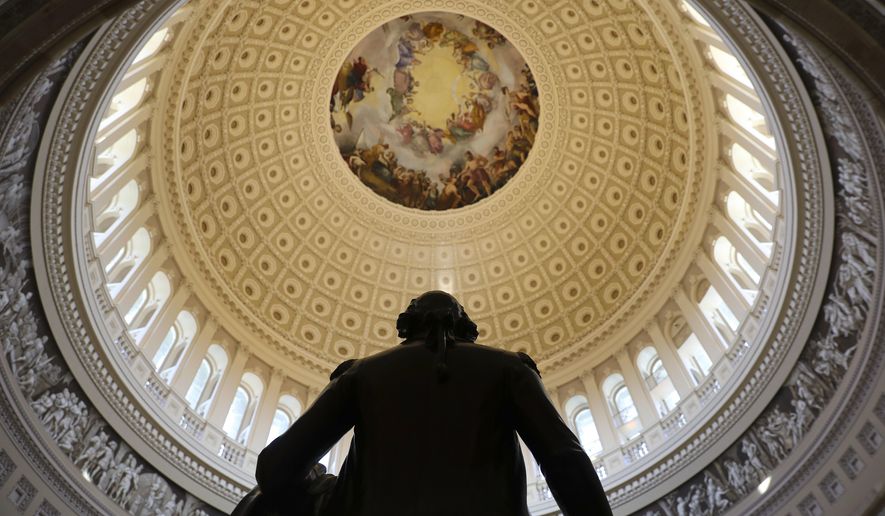 The Capitol Rotunda is seen with the statue of George Washington on Capitol Hill in Washington, Tuesday, Jan. 30, 2018, ahead of the State of the Union address by President Donald Trump. (AP Photo/Pablo Martinez Monsivais)
Charles Hurt
Washington & Lee University has — officially — wet the bed.
Tilting at snowflake machines, the once proud and serious university has decided to cash out its winnings from history in a hopeless effort to pay off the self-appointed history Gestapo now clanging at the gates with torches and pitchforks.
Just ahead of the fiery mob, university officials will take down portraits, lock museum doors and rename buildings on campus in order to protect their precious young adolescents from being exposed to some of the harsher realities of American history — as well as the founding of the university itself.
A slippery slope, indeed.
What will you surrender the next time they come in a hot fever?
If one is of weak constitution and apt to tilt with every latest prevailing wind, then these are tough times to be alive in America. Also, it is a grievous blow to the public when such people inherit important artifacts from our rich history together.
It would be so much better these days to leave history in place and learn from it. Venerate the brave and good and heroic figures — large and small — from history for their actions and accomplishments.
Really, what match are one child's fragile emotions today, compared to so many great and mighty deeds from the centuries past?
There is always at least a bit of comedy when dealing with such unserious people.
University knaves decided, for instance, to remove portraits of General George Washington and General Robert E. Lee, the two great American generals for whom the university is named. Those portraits will be replaced with portraits of General Washington and General Lee — in civilian clothing.
So wait a second. Are we condemning slavery or the U.S. military? Are we erasing the Confederate Army or the American Army? Are we denouncing the failure of the Confederacy or the founding of America?
University President William Dudley, who would not have been worthy to dig latrines for either of the great generals, will soon be forgotten from history. Except, perhaps, for his brief effort to obliterate it.
Among the most urgent proposals: "Re-name Robinson Hall immediately. The hall's association with slavery at Washington College — i.e., that the Robinson bequest included enslaved persons who labored at the institution until the institution sold them to others — gives special urgency to this proposal."
Robinson Hall was named for John Robinson, who left his estate, including some 73 slaves, to the university. In 1836, the university sold the slaves and used the proceeds from that sale to build Robinson Hall.
To correct this grave injustice, Mr. Dudley and his spineless collaborators decided to — change the name of the building to that of a black man.
They are not tearing the building down or giving it back to the slaves who built it. They're not calculating the price of the slaves they sold in today's dollars and giving it to charity. Oh no, they are keeping the building and will continue to live large off the blood money of their generous benefactor.
But they will change the letters on the side of the building. And reorganize the letters so that they spell the name of a black man.
Oh my. What pandering fakers!
These people are not sorry. They just pretend to be. They pretend to be just sorry enough so that maybe mob justice will smile upon them.
Mob justice will declare that they have reformed and they have repented. No punishment necessary. Let them to keep all their ill-gotten gains, stained by the blood of slaves — at least for now.
Source>https://www.washingtontimes.com/news/2018/oct/21/washington-lee-wets-the-bed-makes-deal-with-anti-h/