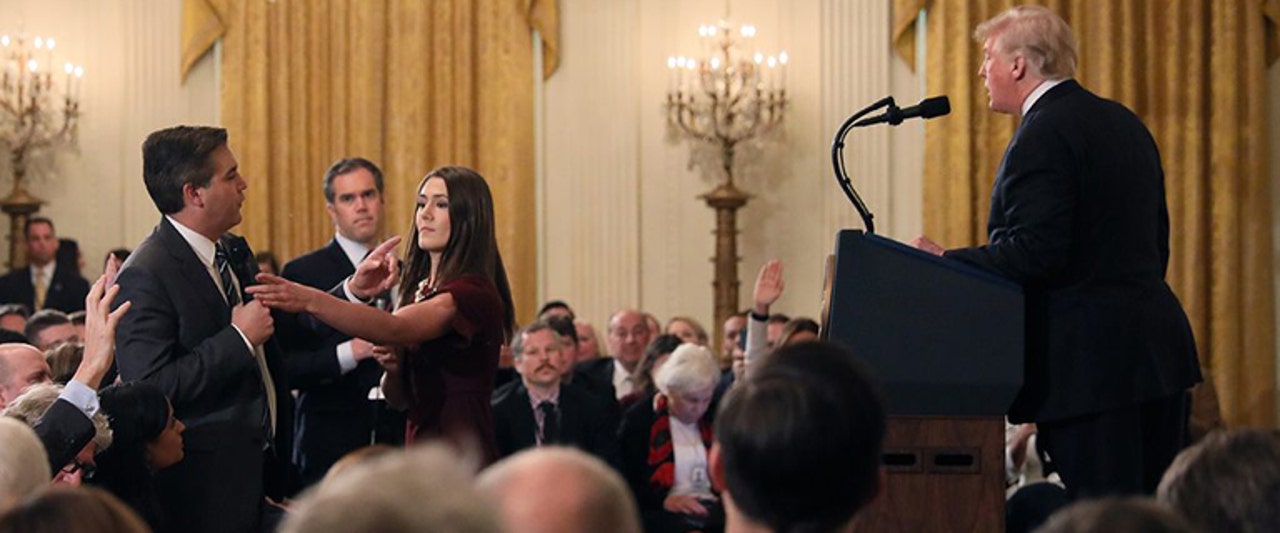 Nicole Darrah
CNN's Chief White House Correspondent Jim Acosta's press pass to access the White House was suspended "until further notice" Wednesday, hours after he engaged in a contentious back-and-forth with President Trump.
Acosta tweeted: "I've just been denied entrance to the WH. Secret Service just informed me I cannot enter the WH grounds for my 8pm hit."
Press secretary Sarah Sanders confirmed Acosta's tweet in a statement, claiming the suspension of his press credentials stemmed from his "placing his hands on a young woman just trying to do her job as a White House intern." She called the behavior "absolutely unacceptable."
"Honestly, I think you should let me run the country and you run CNN," Trump told Acosta.
The reporter tried to ask him another question before a female White House aide walked over to him.
Trump then told him, "That's enough!"
Acosta continued to try to talk as the intern was seen trying to take the microphone from his hand. She grabbed the microphone but Acosta wouldn't give it up.
Sanders in a statement — which Acosta tweeted "is a lie" — said that "President Trump believes in a free press and expects and welcomes tough questions of him and his Administration."
"Contrary to CNN's assertions, there is no greater demonstration of the President's support for a free press than the event he held today. Only they would attack the President for not being supportive of a free press in the midst of him taking 68 questions from 35 different reporters over the course of an hour and a half — including several from the reporter in question," Sanders said.
"The fact that CNN is proud of the way their employee behaved is not only disgusting, it is an example of their outrageous disregard for everyone, including young women, who work in this Administration," she added.
Trump and Acosta often clash at press conferences. On Wednesday, the president called the reporter "a rude, terrible person" who "shouldn't be working for CNN."
"I tell you what, CNN should be ashamed of itself having you work for them," Trump told Acosta. "The way you treat [White House press secretary] Sarah Huckabee [Sanders] is horrible. And the way you treat other people is horrible. You shouldn't treat people that way."
CNN fired back on Twitter, calling Trump's attacks on the media "un-American," and fellow White House reporters backed Acosta.
The White House intern who attempted to take the microphone from Acosta eventually handed it off to Peter Alexander, of NBC News. He called Acosta a "diligent reporter who busts his butt" — to which Trump shot back: "Well, I'm not a big fan of yours either, to be honest."
Other news people, however, reacted differently, including Fox News' Chris Wallace, who called Acosta's behavior "shameful."
Acosta posted a video to Twitter after his "hard pass" was suspended, showing a Secret Service agent removing his media credentials to access the White House grounds from a lanyard.
The agent appears to have some trouble removing it.
"It's been here for a while, huh?" the agent asks.
"Well yeah I've been working at the White House for five years, covering two administrations, so yeah, it's been in that thing for a while," Acosta says.
Fox News' Kathleen Joyce and Adam Shaw contributed to this report
Source>https://www.foxnews.com/politics/cnns-jim-acosta-press-pass-suspended-by-white-house-sarah-sanders-announces