Dem Leaders' Huge Tax Breaks for Bezos Leave Left Crying 'Crony Capitalism'
Greg Norman,
Christopher Carbone
New York's top politicians, Gov. Andrew Cuomo and Mayor Bill de Blasio, have been accused of an "immoral waste of taxpayers' money" and being out of touch with their constituents as the chorus of complaints grows louder over the incentive-laden package put together by the Democrats to lure Amazon to the Big Apple.
The comments come as residents and politicians from within the Democratic Party voice their displeasure with what they perceive as too sweet a deal for Amazon to set up shop in Long Island City, a diverse Queens neighborhood they say has long been in need of improvements in affordable housing, education and infrastructure.
"True progressive leaders of the Democratic Party do not throw corporate welfare at the richest man in the world," New York City Councilman Jimmy Van Bramer, who represents the area, told Fox News. "Jeff Bezos, Amazon Cuomo, and Mayor de Blasio got in a room and cut out the people who this deal is going to affect, whose money will be spent to make it all possible."
Van Bramer added in a separate interview with Politico that both Cuomo and De Blasio -- two of the most powerful Democrats in the state – "misread the moment" and how much of a backlash the deal for Amazon to bring one of its headquarters there would generate.
"I think if the takeaway from the recent election in Queens, New York City and nationally is that we should actually step up corporate subsidies and billionaires getting billion-dollar bailouts — if that's the takeaway, somebody's not got their fingers on the pulse of Democrats, certainly, but people generally in this country," he said.
Ron Kim, an assemblyman who represents another part of the Queens borough, has even gone as far as to file legislation hoping to block some of the subsidies being offered to Amazon from taking effect.
"Giving Jeff Bezos hundreds of millions of dollars is an immoral waste of taxpayers' money when it's more than clear that the money would create more jobs and more economic growth when it is used to relieve student debt," Kim said in a statement obtained by Fox News.
In a co-authored New York Times Op-Ed, Kim and Zephyr Teachout, who ran against Cuomo in the 2014 Democratic gubernatorial primary, wrote: "The company does not seek partnership; it seeks control. Seattle's experience shows that becoming dependent on Amazon did not lead to broader wealth; it has pushed up home prices and led to increased homelessness. Amazon also threw its political weight around in the city, spending millions in a brutal campaign to resist corporate taxes in Seattle."
"It would be a special insult in New York City to sell out to a company so closely identified with squashing small merchants, stifling workers' rights and undermining the publishing and ideas industry."
"New York has a long, strong history of union power, and Amazon has a long history of union busting. In a 45-minute video leaked by Gizmodo, Amazon's anti-union tactics were revealed, as Whole Foods team leaders were instructed in how to quell unionization after Amazon bought the company."
The duo called on the public to see correspondences between the Cuomo administration and Amazon to learn more about what promises have been made.
The New York State Republican Party's spokesperson, in an email to Fox News, also called it the "worst example yet in a very long line of disastrous corporate welfare giveaways under Cuomo while New York continues to rank dead last in business friendliness with the highest taxes & regs, worst economic outlook and most outmigration."
Amazon, which revealed Long Island City and Northern Virginia as the locations of its next headquarters in a formal announcement Tuesday, boasted that their investments "will spur the creation of tens of thousands of additional jobs in the surrounding communities" -- and that hiring will begin in 2019.
"These two locations will allow us to attract world-class talent that will help us to continue inventing for customers for years to come," Jeff Bezos, the founder and CEO of Amazon, said in a statement. "The team did a great job selecting these sites, and we look forward to becoming an even bigger part of these communities."
For the New York location, the company says it will generate 25,000 full-time jobs and $2.5 billion in Amazon investment, as well as an "estimated incremental tax revenue of more than $10 billion over the next 20 years as a result of Amazon's investment and job creation."
Amazon also appears to be taking advantage of a federal "opportunity zone." The Associated Press saysmuch of the Long Island City neighborhood falls into that designation, which was created in President Trump's tax overhaul and offers developers up to millions of dollars in capital gains tax breaks for investing in areas with high poverty and low incomes.
"Amazon has agreed to donate space on its campus for a tech startup incubator and for use by artists and industrial businesses, and Amazon will donate a site for a new primary or intermediary public school," the company added, noting that it will "also invest in infrastructure improvements and new green spaces."
But each of those new jobs are expected to cost New Yorkers $48,000 each, and are part of a larger package of more than $1.5 billion in taxpayer-funded incentives which include such freebies as a helipad on or near the development sites.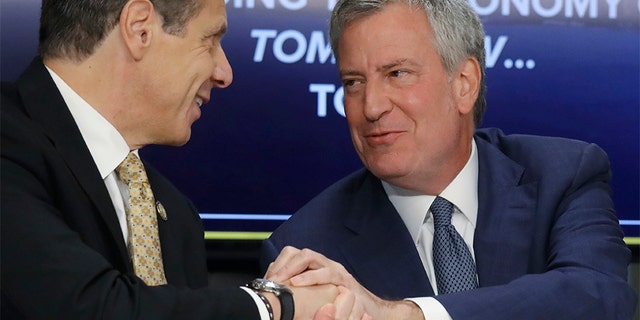 "We should be demanding that they give back to the community and not drain public resources. Instead we got played," lamented Stuart Appelbaum, the president of the Retail, Wholesale and Department Store Union, in a statement obtained by Fox News.
"Amazon can afford to come here without handouts," he added. "It's embarrassing to think that such a great city would need to beg them to come."
Cuomo, in Amazon's statement, said: "With an average salary of $150,000 per year for the tens of thousands of new jobs Amazon is creating in Queens, economic opportunity and investment will flourish for the entire region."
De Blasio hailed the tech giant's announcement as a "giant step on our path to building an economy in New York City that leaves no one behind.
"We're going to use this opportunity to open up good careers in tech to thousands of people looking for their foothold in the new economy, including those in City colleges and public housing," he said. "The City and State are working closely together to make sure Amazon's expansion is planned smartly, and to ensure this fast growing neighborhood has the transportation, schools, and infrastructure it needs."
However, New York City council members – who have the power to modify land-use projects in the city – say Cuomo and De Blasio gave them the runaround when it came to the Amazon deal.
"I find that lack of engagement and the fact that the negotiations excluded the City Council – which is elected by New Yorkers to guide land-use projects with communities in mind – extremely troubling," Johnson said.
Cuomo, at a press conference announcing the deal Tuesday, said it was arranged through a state government mechanism allowing it to bypass the council.
"It's done by [Empire State Development] in consultation with the city and the community," Cuomo said. "But it expedites the process and here the expedition factor was a factor in the competition, right? Because Amazon wanted to move to a place where they knew they would have an expedited facility being constructed and that's our way of doing it."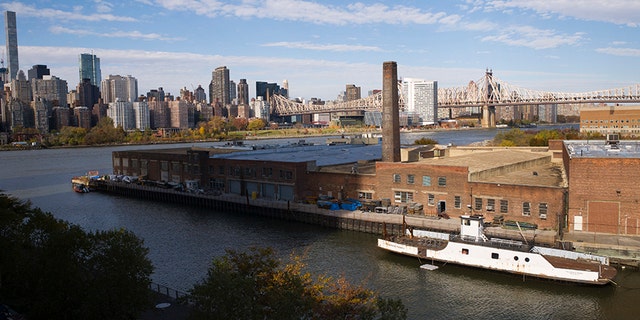 Johnson reportedly was among the invitees to that press conference Tuesday at Cuomo's New York City office – but he and other council members appeared to give the governor the cold shoulder by not attending.
Jonathan Tepper, an investor and author of the book "The Myth of Capitalism," said of the agreement: "Amazon's HQ2 makes me want to vomit. It perfectly captures how corrupt American crony capitalism has become.
"The government should not be in the business of throwing money at businesses to 'create jobs' -- that is what businesses are supposed to do as a matter of course," he added.
Those living in the largest public housing project in America – only a handful of blocks away from the proposed Amazon Long Island City site -- also are skeptical as to how the incoming Amazon jobs will benefit them.
"This community needs jobs, but we have trades, no degrees," Demetrius Loving, a 45-year-old resident of the Queensbridge Houses, told the New York Post. "They could save this community with that money!"
Fox News' Chris Ciaccia contributed to this report.
Source>https://www.foxnews.com/tech/cuomo-de-blasio-blasted-by-democrats-and-nyc-residents-over-incentive-laden-deal-to-bring-amazon-to-big-apple