Incoming Interior Secretary Refers to Policy as a 'Short-Term Solution'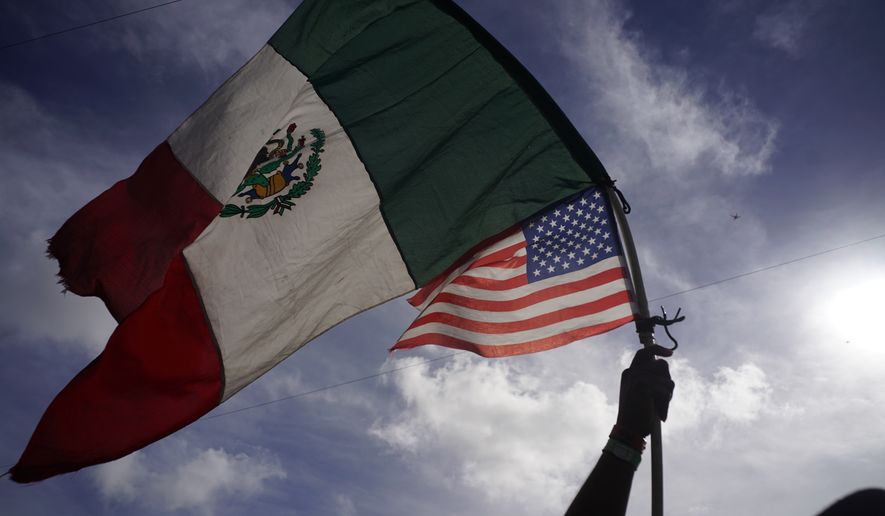 A Honduran migrant holds up Mexican and U.S. flags as he joins a small group of migrants trying to cross the border together at the Chaparral border crossing in Tijuana, Mexico, Thursday, Nov. 22, 2018. A small group of Central American migrants marched peacefully to the border crossing in Tijuana Thursday to demand better conditions and push to enter the U.S. (AP Photo/Ramon Espinosa)
Andrew Blake
Immigrants seeking asylum in the United States by entering through Mexico could be required to wait south of the border while U.S. courts assess their cases, a member of the incoming Mexican government said in an interview published Saturday.
Andrés Manuel López Obrador, Mexico's president-elect, plans to implement a policy known as "Remain in Mexico" after taking office next month, his top domestic policy official told The Washington Post.
"For now, we have agreed to this policy of Remain in Mexico," said Olga Sánchez Cordero, Mexico's incoming interior minister, The Post reported.
Called a "short-term solution" by Ms. Sánchez Cordero, the pending policy change is expected to earn praise north of the border from President Trump, who has vowed to reform federal immigration policies said launching his 2016 campaign.
"The medium- and long-term solution is that people don't migrate," said Ms. Sánchez Cordero, The Washington Post reported. "Mexico has open arms and everything, but imagine, one caravan after another after another, that would also be a problem for us."
The White House did not immediately return a message seeking comment.
No formal agreement has been signed between countries yet, and the potential policy change is still pending, The Post reported.
Source>https://www.washingtontimes.com/news/2018/nov/24/mexico-keep-asylum-seekers-under-new-policy-while-/