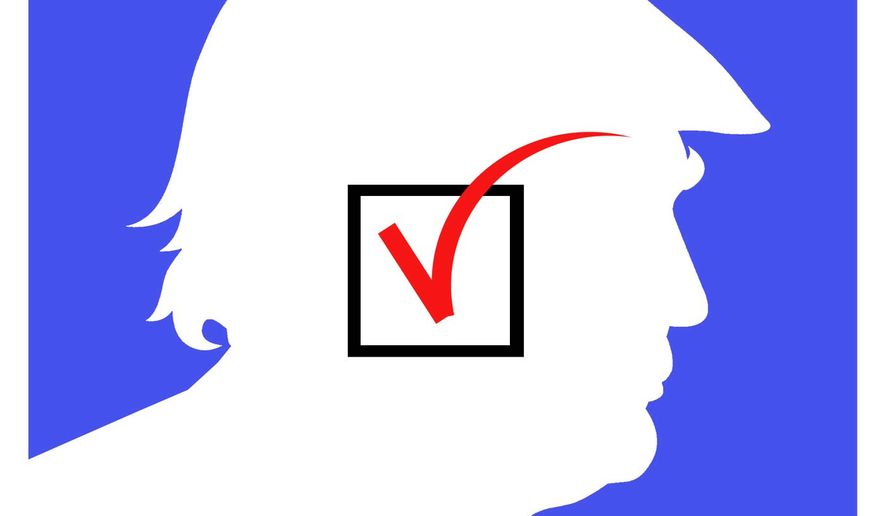 Illustration on midterm elections by ALexander Hunter
Monica Crowley
ANALYSIS/OPINION:
As he's addressed massive campaign rallies, President Trump gives the crowds a singularly important marching order: "Pretend I'm on the ballot."
His advice is wise. As we head into the final stretch of the 2018 midterm elections, pollsters and strategists are debating which party has the intensity edge, but one thing is crystal clear: There is no enthusiasm gap when it comes to Mr. Trump.
Over the past few months, Mr. Trump has done what he does best, and appears to enjoy the most: Campaign. Not for himself this time, but for Republican Senate and House candidates in tight races in an attempt to preserve the party's majorities. He draws crowds often in the tens of thousands, as big if not bigger than the ones he drew in 2016, and far bigger than the candidates could attract on their own. A recent rally in Houston to support Sen. Ted Cruz's re-election attracted so many people that organizers had to move the event to a much bigger arena.
The events have given Mr. Trump a mega-platform to tout his growing record of accomplishments: A thriving economy, tax cuts, deregulation, historically low unemployment (particularly among blacks, Latinos and women), wage growth, confirmation of two U.S. Supreme Court justices and more than 80 federal judges, exit from the Iran nuclear deal, initial work on the border wall, the U.S. embassy move to Jerusalem, the return of American hostages from North Korea, the successful renegotiation of NAFTA with the renegotiation of other trade relationships underway. The candidates who stand by his side hope that voters will associate Mr. Trump's policy success with their ability, if elected, to help keep it going.
Mr. Trump also gleefully criticizes Democrats, flipping the Alinsky script as he mocks their radicalism, failures and hypocrisy. He gives the news media the same treatment, something they are not used to and cannot abide. He is so effective at highlighting their bias, double standards and outright dishonesty that they immediately default to blaming him for the actions of every violent lunatic and ill befalling the nation.
Following the arrests of the maniac who sent threatening packages to prominent Trump critics and the anti-Semitic monster who gunned down 11 innocent souls at a Pittsburgh synagogue, the left immediately attributed the "violent hate" to Mr. Trump's rhetoric. That's a staggering jujitsu of projection, given the incessant hate that's long poured out of leftist precincts.
Projection is, in fact, the left's main tool of distraction. They denounce "fear tactics" while incessantly preaching fear of Mr. Trump and everything related to his party. They decry "bigotry" while often demonstrating the most intolerant bigotry of their own, particularly when it comes to anyone with an opposing view. When in power, they pay lip service to "coming together" and "finding common ground" while crushing their opposition; when out of power, they feel fully justified in deferring civility until they're back in control.
Meanwhile, Mr. Trump's power largely comes from giving voice to the silent majority, expressing its legitimate concerns, frustrations and wishes. The left, however, has monopolized the microphone for so long that hearing other views elevated and respected by the president shocks and infuriates them.
To the left, this reads as "division," when in fact it's simply a more equitable distribution of expression and views. The division has been there all along, simply hidden under the jackboot of leftist media control, and the silent majority has long been blocked from responding in kind. No longer, now that Mr. Trump is championing them and blasting the left's tyranny of thought.
This is Mr. Trump's first midterm cycle, however, and some Republicans still aren't sure how to navigate him. The smart Republican candidates have embraced him, buoyed by his robust job approval rating and broad public support of the stronger economy and international position he's delivering.
History suggests that midterm election night may not be a great night for Republicans. But politics hasn't adhered to normal trends in quite a while. There is a significant shift taking place, accelerated by Mr. Trump who has upended most expectations and shattered traditional precepts of leadership.
Additionally, unforeseen events could further scramble the election calculus, including the imminent arrival of thousands of Central Americans at the southern border, the deployment of troops to support the Border Patrol, more terrorist threats or violence, an economic shock or some other unknown.
But we do know that we're still in the midst of a major populist realignment, the effects of which continue to ricochet. We will find out on Nov. 6 exactly which old assumptions still apply, which new ones need analysis and how Mr. Trump continues to shape the national landscape. "Pretend I'm on the ballot," he says, because in so many ways, he is.
As he gives voice to the silent majority, let's hope the silent majority returns the favor with its votes.
Source>https://www.washingtontimes.com/news/2018/oct/31/liberals-denounce-fear-tactics-while-incessantly-p/