Most of World's Big Economies Also Skeptical of Migration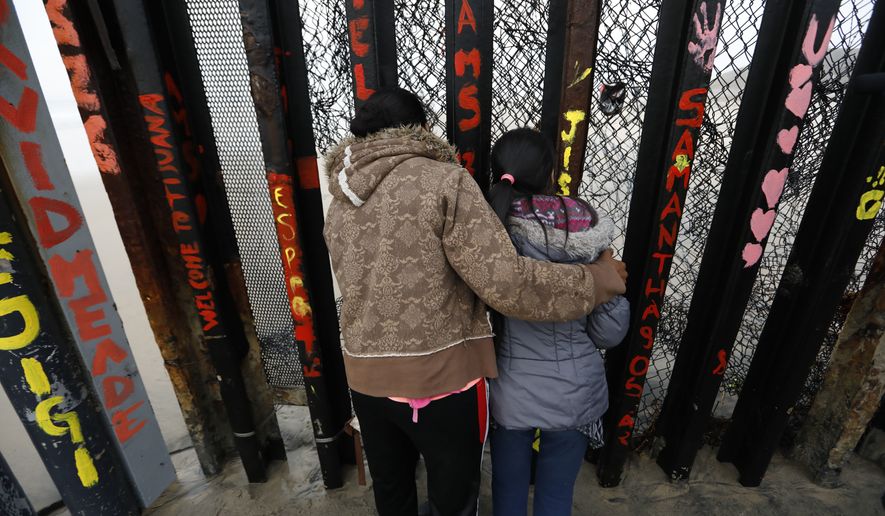 A Honduran migrant and her daughter peer through the U.S. border wall, moments before suddenly squeezing through a gap and pushing through fencing to exit on the U.S. side, in Tijuana, Mexico, Sunday, Dec. 9, 2018. Discouraged by the long wait to apply for asylum through official ports of entry, many Central American migrants from recent caravans are choosing to cross the U.S. border wall illegally and hand themselves in to Border Patrol agents to request asylum. (AP Photo/Rebecca Blackwell)
Stephen Dinan
The world is decidedly against immigration, with people in nearly every major economy saying they would rather see reductions than increases in the numbers of migrants their nation admits each year, according to a new global survey released Monday.
The U.S. is among the most generous, yet even here, just 24 percent want more immigration compared to 29 percent who want less, according to the Pew Research Center survey of 27 countries.
Another 44 percent of Americans say the current level is right — meaning that combined, 69 percent would oppose the kinds of increases most lawmakers on Capitol Hill are contemplating.
The findings come as most countries signed onto the Global Compact for Safe, Orderly and Regular Migration, overseen by the U.N.'s International Organization for Migration. The U.S. is not a party to the compact, which aims is to create standards for respecting human rights of refugees and would-be immigrants amid a massive wave of global migration.
In Greece and Italy, both major recent destinations for refugees from elsewhere along the Mediterranean, more than 70 percent of residents wanted less migration.
Pew didn't ask, but a staggering 45 percent of Hungarians in the survey offered that they wanted zero immigration. So did 27 percent of Greeks, 18 percent of Polish residents and 15 percent of Italians.
In the U.S. that figure was just 4 percent.
Levels of immigration have been a controversial part of U.S. policy for years, with the consensus among policymakers in Washington — both Republicans and Democrats — that high immigration is a good thing.
The general public, though, has for decades been more skeptical, viewing migrants as competitors for jobs and, in some cases, a crime and safety risk.
Source>https://www.washingtontimes.com/news/2018/dec/10/most-americans-oppose-increased-immigration/