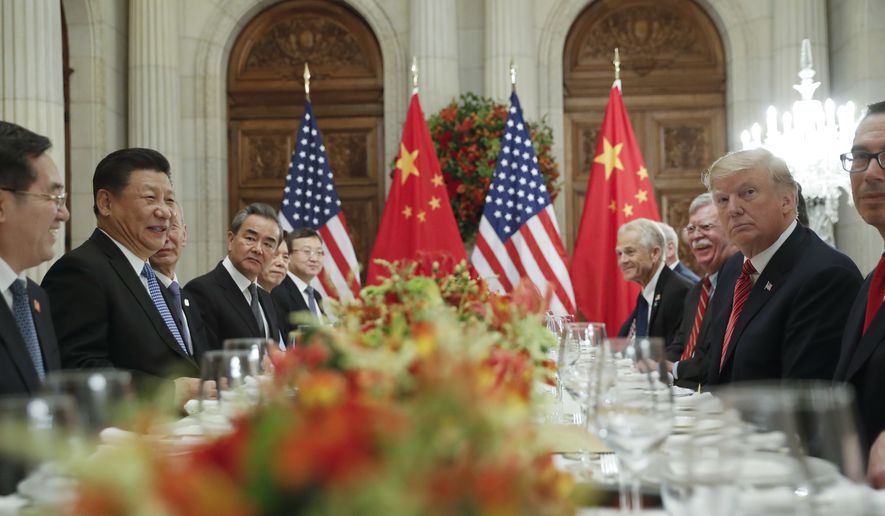 President Donald Trump with China's President Xi Jinping during their bilateral meeting at the G20 Summit, Saturday, Dec. 1, 2018 in Buenos Aires, Argentina. (AP Photo/Pablo Martinez Monsivais)
Dave Boyer

and

S.A. Miller
China said Wednesday that it is "confident" of reaching a trade deal with the U.S., and President Trump expressed optimism that Beijing will meet its promises to him, a day after Mr. Trump's threat of more tariffs caused stock markets to plummet.
After days of unexplained silence, the Chinese Commerce Ministry said Beijing would try to work quickly to implement specific items that Mr. Trump and Chinese President Xi Jinping agreed upon over the weekend at a Group of 20 nations summit in Argentina.
The Chinese government said it will "actively promote the work of negotiations within 90 days in accordance with a clear timetable and road map."
"We are confident in implementation," said the statement, calling the talks between the two presidents "very successful."
Mr. Trump said the statement validated his announcement of an agreement with Mr. Xi. The president said Beijing had been silent because of Mr. Xi's extended travels to Panama and Portugal after the G-20 summit. The Chinese leader and his entourage are scheduled to return to Beijing on Thursday.
"Very strong signals being sent by China once they returned home from their long trip, including stops, from Argentina," Mr. Trump tweeted. "Not to sound naive or anything, but I believe President Xi meant every word of what he said at our long and hopefully historic meeting. ALL subjects discussed!"
But the comments from Beijing did little to improve investors' concerns in Europe, where stocks fell generally across the board. U.S. markets were closed Wednesday for a national day of mourning for former President George H.W. Bush.
On Tuesday, U.S. stock markets plummeted by about 3 percent, largely because of investors' uncertainty about the tariff war with Beijing. The markets also were rattled by Mr. Trump's comment that he is a "tariff man" and would hit China with steeper tariffs if negotiations fall through.
"Narrow agreements and modest concessions in the ongoing trade dispute will not bridge the wide gulf in their respective economic, political and strategic interests," Moody's Investors Service said in a report that predicted U.S.-Chinese relations "will remain contentious."
On Wednesday, Mr. Trump also pointed to a report by Bloomberg that Chinese officials "have begun preparing to restart imports of U.S. Soybeans & Liquified Natural Gas," citing the actions as confirmation of progress at the G-20 summit.
Sources told Reuters news agency that Chinese oil trader Unipec plans to resume buying U.S. crude by March after the Xi-Trump deal reduced the risk of tariffs on those imports. China's crude oil imports from the U.S. had ground to a halt.
Curtis S. Chin, Asia fellow at the nonpartisan Milken Institute and a former U.S. ambassador to the Asian Development Bank, said the delay in increasing tariffs was "more of a pause than a breakthrough."
"As with all agreements with China, the devil is in the details and in the follow-up," Mr. Chin told The Washington Times. "Too often, Chinese promises of liberalization and reforms have been followed by delays and reinterpretations of past commitments."
He noted that Mr. Xi announced "with great fanfare" in October 2017 that China would let market forces play a decisive role in the Chinese economy.
"Since that time, however, China's support for state-owned enterprises has only increased," Mr. Chin said. "U.S. President Ronald Reagan famously used to say 'Trust but verify' when it came to the Soviet Union. Given the Chinese government's track record on past commitments to reform, Donald Trump would be wise to follow suit and declare 'Don't trust, do verify' when it comes to China."
He said an early test of China's intentions will be how quickly it meets a pledge to purchase U.S. soybeans and other agricultural products.
"The reality, though, is that the problems of intellectual property rights theft, forced technology transfers and other unfair Chinese trade practices predate the Trump administration and cannot be solved in 90 days," Mr. Chin said. "The ball remains in China's court as to real action versus more rhetoric when it comes to building a more sustainable China-U.S. trading relationship to the benefit of both sides."
Failure would raise the specter of a major escalation in the trade battle, with fresh U.S. tariff action and Chinese retaliation as early as March.
The White House has said China had committed to start buying more American products and lifting tariff and non-tariff barriers immediately, while beginning talks on structural changes with respect to forced technology transfers and intellectual property protection. Officials in Beijing confirmed China's commitments only in the broadest terms.
"We hope the two working teams from both sides can, based on the consensus reached between the two countries' leaders, strengthen consultations, and reach a mutually beneficial agreement soon," Foreign Ministry spokesman Geng Shuang told reporters.
The Commerce Ministry's website stated, "China will start from implementing specific issues on which consensus has been reached, and the sooner, the better."
This week's confusion highlights the clash between the secrecy and measured pace of the ruling Chinese Communist Party and Mr. Trump, who fires off dozens of Twitter comments a day and cultivates an image as a fast-paced, unpredictable deal-maker.
Chinese leaders routinely use delays of months or years to pressure negotiating partners.
Even on routine matters, and with no voters to placate and total control of Chinese media, they can frustrate other governments by leaving them waiting weeks or months for a response.
On Wednesday, the Global Times tabloid, an English-language outlet run by the Chinese Communist Party's main newspaper, said the Trump administration's statements about the deal — including the agreement that China would buy $1.2 trillion in additional U.S. goods — were designed to highlight or even exaggerate facets of the deal that benefited the U.S.
"It will be a win-win situation if a deal is realized. But if not, more fights and talks will continue alternately for a longer while. Chinese society should maintain a calm attitude," it said.
Mr. Trump said one of the most exciting developments from his meeting with Mr. Xi was "his promise to me to criminalize the sale of deadly fentanyl coming into the United States."
"It will now be considered a 'controlled substance,'" Mr. Trump said. "This could be a game changer on what is considered to be the worst and most dangerous, addictive and deadly substance of them all."
He noted that more than 77,000 people died last year from fentanyl overdoses.
"If China cracks down on this 'horror drug,' using the Death Penalty for distributors and pushers, the results will be incredible!" Mr. Trump tweeted.
The U.S. government does not track death rates for every drug. The National Institute on Drug Abuse's website says there were more than 72,000 drug overdose deaths estimated in 2017, including nearly 30,000 deaths related to fentanyl.
Source>https://www.washingtontimes.com/news/2018/dec/5/trump-china-trade-deal-beijing-breaks-unexplained-/