Marc Lamont Hill stands by 'brother' Farrakhan: We can't throw 'people who love us away'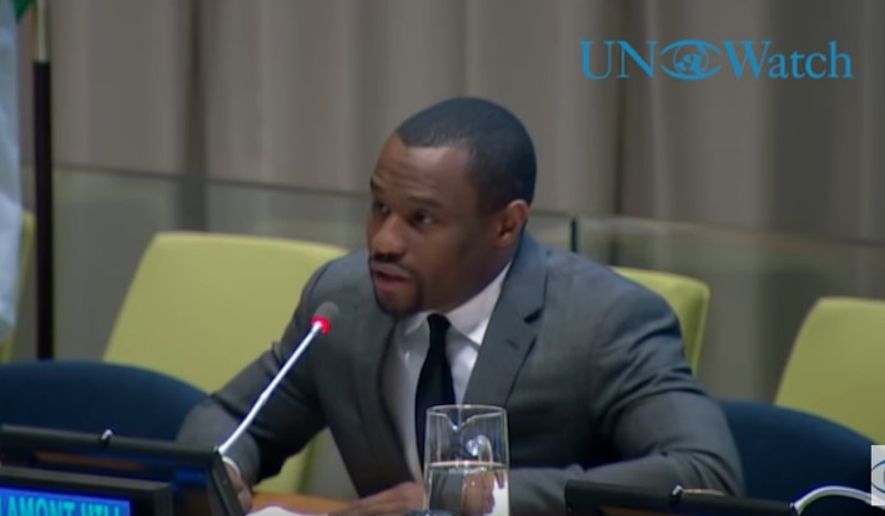 Marc Lamont Hill, a Temple University professor who appears regularly on CNN, speaks to a United Nations panel on Wednesday, Nov. 28, 2018. (Image: Screen grab of UNWatch's YouTube video at https://www.youtube.com/watch?v=BvzSv28z97o) ** FILE **
Jessica Chasmar
Fired CNN contributor Marc Lamont Hill is refusing to renounce National of Islam leader Louis Farrakhan, arguing that black people shouldn't be forced to "throw him away wholesale" just because they don't share the same views.
Mr. Hill made the comments during an appearance Friday on "The Breakfast Club" radio program after he was fired from CNN earlier this month for an anti-Israel speech he gave at the United Nations that some deemed anti-Semitic. Mr. Hill has vehemently denied allegations of anti-Semitism, saying his condemnations of the Israeli government do not extend to the Jewish people.
Mr. Hill, a professor at Temple University in Philadelphia, said the same Friday, adding that he supported Palestinians' right to "self-defense" against the Israeli government.
"Too often any act of resistance from Palestinians gets called terrorism," he said. "International law says that an occupied people have the legal right to resist, and I think that's just common sense. That's what [Malcolm X was] talking about."
Mr. Hill, who recently came under fire for a resurfaced 2016 photo with Mr. Farrakhan, also decried the idea that the black community had to renounce the anti-Semitic preacher just because they may disagree on certain issues.
"For some reason, if you meet with Minister Farrakhan and you don't throw him away wholesale, then you're castigated in a way that doesn't happen with anybody else," Mr. Hill said.
"I worked on Fox News for many years. No one ever said, 'Why are you sitting with Bill O'Reilly? Why are you sitting with Sean Hannity? Why are you sitting with Ann Coulter?' No one ever said that," he continued. "And I'm not comparing Farrakhan to them, except to say, that if you think [he's] extreme, I think they're extreme.
"Why is only one set of people untouchable?" he asked. "And why does every black leader have to ritually denounce Farrakhan in order to sustain a position? That doesn't happen to anyone else.
"Again, Minister Farrakhan is my brother," he added. "The idea that we have to renounce him, denounce him, throw him away … in the black tradition, I ain't got the luxury of throwing people who love us away. I ain't got the luxury of taking people who come out of traditions that have saved us and cleaned us and throw them away. We can't do that. We shouldn't do that."
Source>https://www.washingtontimes.com/news/2018/dec/18/marc-lamont-hill-stands-brother-farrakhan-we-shoul/