One would think with the forced Firings and Agency Reassignments that the LEFT with accept the REAL Possibility that some in the FBI and DOJ were Dirty Cops. In my humble opinion, isn't that what the Left used to fight against...DIRTY COPS?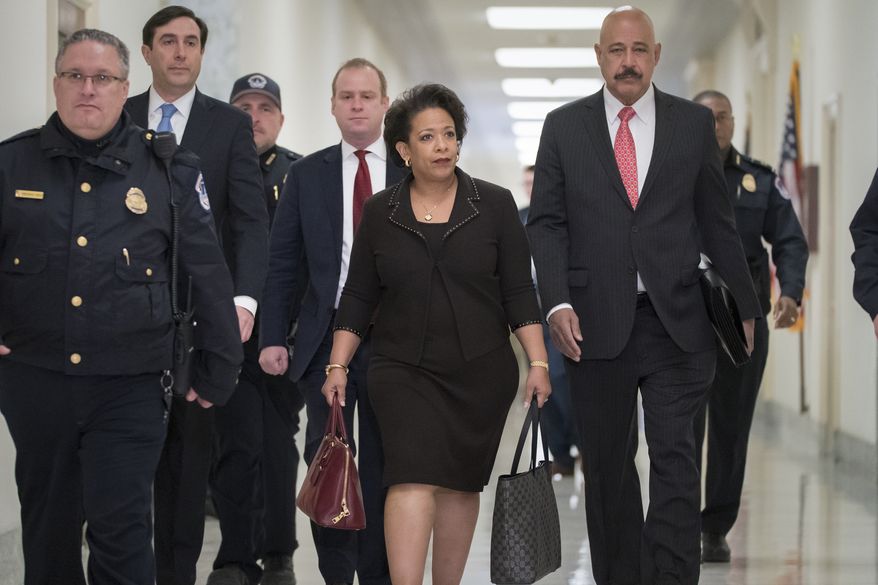 Former Attorney General Loretta Lynch arrives on Capitol Hill in Washington, Wednesday, Dec. 19, 2018, to appear before the GOP-led House Judiciary and Oversight Committees in their probe of conduct by federal law enforcement officials in the investigation of President Trump's alleged Russia ties, and Hillary Clinton's emails. The panels also interviewed former FBI Director James Comey. (AP Photo/J. Scott Applewhite)
Alex Swoyer
Republicans grilled former Attorney General Loretta Lynch for hours Wednesday over her 2016 airport tarmac meeting with former President Bill Clinton at a time when her department was investigating his wife for mishandling top-secret emails.
GOP lawmakers emerged to say they had learned new information about the dissonance between Ms. Lynch and then-FBI Director James B. Comey, who cut Ms. Lynch out of some decisions and very publicly exonerated Hillary Clinton soon after the tarmac meeting.
"We are finding some very interesting things about his feeling he didn't have to inform her before, during, or after he made the decision not to prosecute," said Rep. Darrell Issa, California Democrat.
Republicans have hinted the impromptu meeting during a layover in the summer of 2016 cast a cloud over the investigation and presented the then-attorney general with a conflict of interest.
But Democrats said the meeting lasted only eight or nine minutes and other people were present, suggesting there was nothing nefarious.
Ms. Lynch was testifying to the House Judiciary and Oversight committees, which are still under GOP control for the rest of this year and are trying to get a few last bites at the investigative apple. They have held two days of testimony from Mr. Comey this month.
Democrats said having Ms. Lynch in was a futile exercise.
"It was a total waste of time," said Rep. Jerrold Nadler, the top Democrat on the Judiciary Committee.
Rep. Jamie Raskin, Maryland Democrat, said he caught one of his Democratic colleagues and another Republican member snoozing during the deposition.
"I won't identify them by name," he told reporters. "I feel as if my GOP colleagues are going through the motions on this. They're riding out a paranoid, deep-state conspiracy theory."
But Mr. Issa said the interview revealed how insubordinate Mr. Comey was during the Clinton email probe.
Republicans had also wanted to speak with Deputy Attorney General Rod Rosenstein since he has been overseeing the probe into Russian interference and had reportedly joked about wearing a wire to secretly record the president.
But as of Wednesday, it appeared the deputy attorney general would not be coming to the Hill.
"If he is coming, I don't know about it," said Rep. Trey Gowdy, South Carolina Republican and chairman of the House Oversight and Government Reform Committee.
Without Mr. Rosenstein's testimony, Ms. Lynch would be the last individual questioned about the conduct of the FBIand Justice Department during the investigations of both 2016 presidential candidates.
GOP lawmakers are expected to soon wrap up their investigation and issue a report about their findings.
Source>https://www.washingtontimes.com/news/2018/dec/19/gop-grills-loretta-lynch-over-tarmac-meeting-comey/