FINALLY!
After being Responsible for Firing His friend Comey, assisting in appointing Mueller, Lying on Fisa Warrants to Judges, the WEASEL is stepping down. So nearly everyone involved in the Russia Probe and Collusion Circus is gone! Next Up, Mueller!
...tmiraldi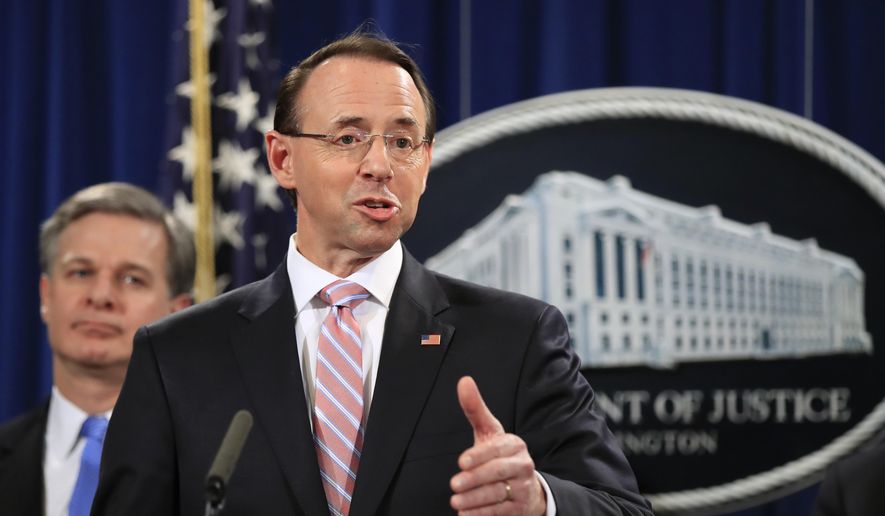 Gabriella Muñoz
Deputy Attorney General Rod Rosenstein will depart from the Justice Department in a matter of weeks, ABC News reported Wednesday morning.
Multiple unnamed sources told ABC News that Mr. Rosenstein has already informed President Trump about his plans to leave the DOJ once the president's pick for a new attorney general, William Barr, is confirmed by the Senate and takes office.
The sources explained Mr. Rosenstein is waiting for the confirmation in order to make sure the transition of power between him and his replacement is smooth.
According to the report, the decision was something Mr. Rosenstein considered for two years and isn't coming from pressure from the president.
His former boss, Attorney General Jeff Sessions, was pushed out by the administration and resigned in November.
Mr. Rosenstein has overseen special counsel Robert Mueller's investigation into potential Russian collusion and obstruction of justice since Mr. Sessions recused himself, much to Mr. Trump's chagrin.
He also came under fire from Republicans after reports surfaced that he suggested wearing a wire to record the president, something he denied and other officials said was not a serious suggestion.
Source>https://www.washingtontimes.com/news/2019/jan/9/rod-rosenstein-to-leave-doj-in-the-coming-weeks-re/