On 'The View,' Meghan McCain accuses group of 'anti-Semitism masked in activism'
Mallory is just another example of the lack of leadership coming from this community. They have no problem outing those not part of their cult-like narrative, but refuse to self-examine themselves.
...tmiraldi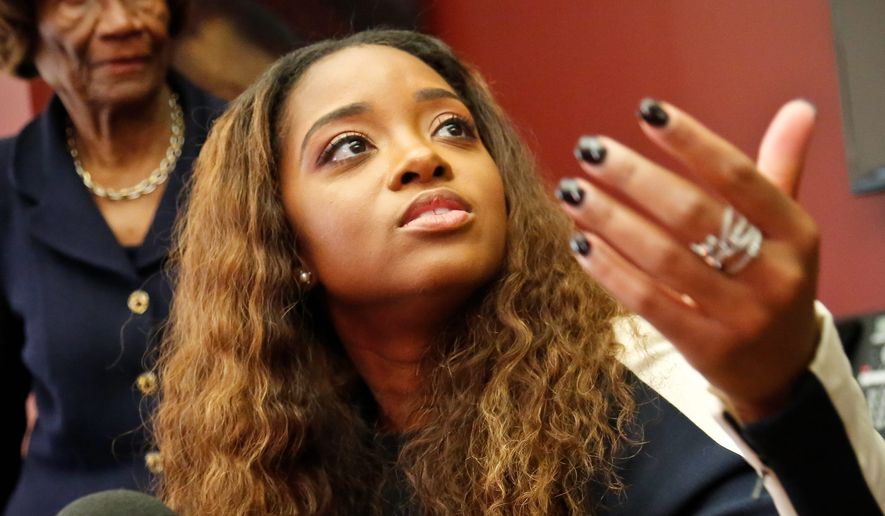 Photo by: Bebeto Matthews
Civil rights leader Tamika Mallory (left) and Carmen Perez are accused of berating a Jewish organizer and using anti-Semitic canards at a 2017 meeting, according to a report. The Women's March organizers took on their critics in a Facebook live-stream. (ASSOCIATED PRESS PHOTOGRAPHS)
Valerie Richardson
Women's March national co-chair
Tamika D. Mallory
's attempt to tamp down anti-Semitism concerns prior to next weekend's march may have backfired.
Ms. Mallory refused to condemn Nation of Islam leader Louis Farrakhan in an appearance Monday on ABC's "The View" under tough questioning from co-host Meghan McCain, who asked about Mr. Farrakhan's past comments on "wicked Jews, "false Jews," and homosexuality.
"We did not make those remarks," said Ms. Mallory. "What I will say to you is that I don't agree with many of Minister Farrakhan's statements."
Asked about his remarks about Jewish people, Ms. Mallory repeated, "As I said, I don't agree with many of Minister Farrakhan's statements."
"No, no, no. To be very clear, it's not my language. It's not the way that I speak, it's not how I organize," said Ms. Mallory. "And I think it is very clear over the 20 years of my own personal activism, my own personal track record, who I am, and I should never be judged through the lens of a man."
Co-chair Bob Bland said the Women's March has put out multiple statements condemning anti-Semitism and bigotry, but

Ms. McCain

wasn't buying it.
"Now a lot of people — by 'a lot of people,' I include me in this — think that you're using your organization as anti-Semitism masked in activism, and that you're using identity politics to shield yourself from critiques," said

Ms. McCain.
The Women's March has seen its sponsors fall off in advance of the third annual march on Washington, D.C., slated for Saturday on the National Mall, as

Ms. Mallory

and co-chairs Carmen Perez and Linda Sarsour wrestle with criticism over their

Farrakhan

associations.
Ms. Mallory

was also asked why she referred to

Mr. Farrakhan

as "definitely the GOAT," or "Greatest of all Time," in a 2015 post on Instagram.
"I didn't call him the 'greatest of all time' because of his rhetoric, I called him the 'greatest of all time' because of what he's done in black communities," said

Ms. Mallory, who received a smattering of applause.
Co-host Whoopi Goldberg asked if she understood "why people feel that you stepping down might put some air between all of this before a conversation can continue," referring to calls for the four national co-chairs to resign.
"I also know of people who don't want me to step down," said

Ms. Mallory. "So there is both sides of that. There are people that actually support my leadership and I am willing to lead until my term at Women's March is up."
Ms. Bland also insisted that "the Women's March is open to all" after

Ms. McCain

asked whether pro-life, pro-Trump women would be welcome at the decidedly progressive, anti-Trump march.
"We condemn any statements of hate, and we've actually been working so hard over the last two years to fight this type of hate, over and over again," said Ms. Bland. "We're committed to repairing any harm because we understand that the Jewish community is feeling hurt right now."
Source>https://www.washingtontimes.com/news/2019/jan/14/tamika-mallory-refuses-condemn-louis-farrakhan-vie/