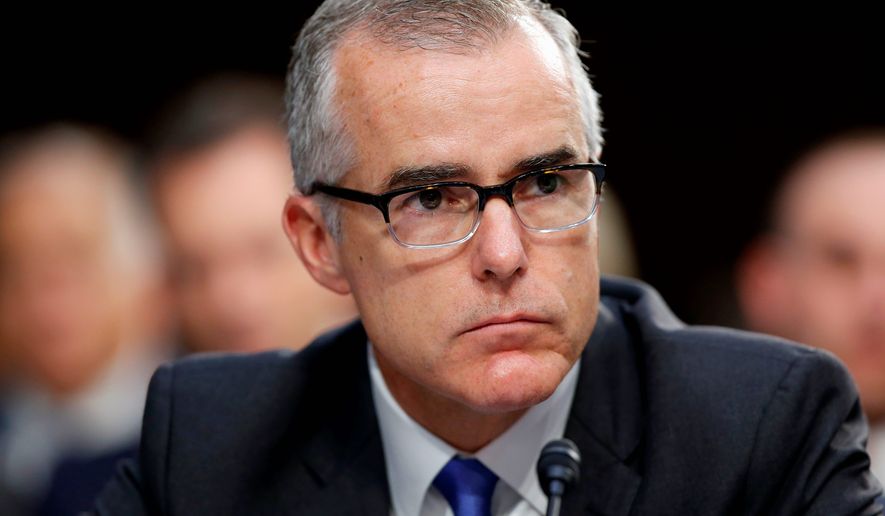 "Now [Deputy Attorney General Rod Rosenstein] was not joking," said former acting FBI Director Andrew McCabe. "He was absolutely serious." (Associated Press)
Jeff Mordock
Former acting FBI Director Andrew McCabe said Sunday that Deputy Attorney General Rod Rosenstein was so serious about using the 25th Amendment to oust President Trump, he was counting "votes or possible votes" among Cabinet members.
In an interview with "60 Minutes" to promote his upcoming book, Mr. McCabe said Mr. Rosenstein offered to wear a wire during his next meeting with Mr. Trump.
The reason, Mr. McCabe said, was because Mr. Rosenstein wanted to learn the president's motivation for firing former FBI Director James B. Comey in the early stages of what would ultimately become special counsel Robert Mueller's Russia collusion probe.
"Now he was not joking," Mr. McCabe said. "He was absolutely serious. And, in fact, he brought it up in the next meeting we had. I never actually considered taking him up on the offer."
The recording would have been to collect evidence on whether Mr. Comey's firing amounted to obstruction of justice, according to Mr. McCabe.
When that idea was shot down, Mr. McCabe said, Mr. Rosenstein discussed invoking the 25th Amendment. The amendment is a process for the Cabinet to force the removal of a president they consider unable to perform the duties of the office.
"To be fair, it was an unbelievably stressful time," Mr. McCabe said. "I can't even describe for you how many things must have been coursing through the deputy attorney general's mind at that point."
Mr. Rosenstein has called the allegations "inaccurate and factually incorrect." Last fall, a Justice Department official dismissed a report in The New York Times claiming Mr. Rosenstein offered to wear a wire as a joke.
On Sunday, Fox News reported that top Justice Department lawyer James Baker testified before Congress in May that Mr. McCabe and FBI lawyer Lisa Page told him that Mr. Rosenstein was talking to high-ranking Trump administration officials about ousting the president under the 25th Amendment.
The discussions occurred in May 2017, in the aftermath of Mr. Comey's abrupt firing, according to the report. Mr. Baker reportedly told lawmakers that Rosenstein knew of at least two Cabinet officials who would support the move.
Mr. Baker also said he did not believe Mr. Rosenstein was joking. He told lawmakers, "this was not a joking sort of time," according to the Fox News report.
Asked Sunday if Mr. Rosenstein was "openly talking" about whether Cabinet members supported the idea, Mr. McCabe said the No. 2 official at the Justice Department was "counting votes or possible votes."
Hours before the "60 Minutes" interview, Senate Judiciary Committee Chairman Lindsey Graham pledged his panel will investigate the allegations Mr. Rosenstein sought to oust the president.
"There's an allegation by the acting FBI director at the time that the deputy attorney general was basically trying to do an administrative coup," he said on CBS's "Face the Nation." "The deputy attorney general denies it. I promise your viewers the following: that we will have a hearing about who's telling the truth, what actually happened."
Mr. Graham said he was floored by the allegations and will subpoena both Mr. McCabe and Mr. Rosenstein if necessary.
"We are going to find out what happened here … because the underlying accusation is beyond stunning," he said.
Source>https://www.washingtontimes.com/news/2019/feb/17/andrew-mccabe-says-rod-rosenstein-sought-to-oust-d/