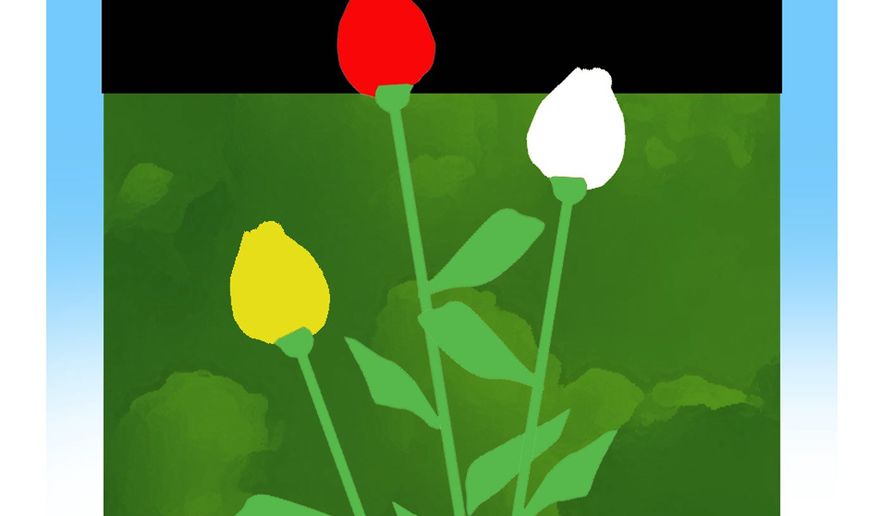 Illustration on mourning and the mass murder in New Zealand by Alexander Hunter
Suzanne Fields
ANALYSIS/OPINION:
The good news is that the technological revolution and social media have produced the swiftest and the most expansive means for the communication of ideas that man has ever known. The bad news is that we pay a high price for it. Fact and opinion linger long after proven wrong, as they often are, and the coarsening of the culture continues apace as every Tom, Dick and Henrietta taps a keyboard or speaks into a microphone, magnifying fleeting misinformation.
The simple act of mourning, which inevitably comes to us all, becomes a casualty.
Mourning is always sad up close and personal. We confront grief for a departed loved one, followed if we're fortunate by gathering with others who offer comfort, love and sympathy, sharing traditions of spiritual hope and secular longing. We speak in familiar phrases handed down through the ages. Words ripened on the tree of life fall from the branches as if joining the moment.
Mourning is stretched to cover the massacre of those we never knew, passing through the impersonality of social media, public announcements, the pages of the newspapers, television, emails, texts and videos. Words become less important than the visuals. "Emojis," with their synthethic tears, replace the Hallmark card sent "when you care enough to send the very best." Videos convey shock and anger in real time when men, women and children of different ages are destroyed by hatred, prejudice and madness. We grieve from afar with new rules for the swift expression of sadness and sympathy.
There's no time now for the elegiac poetry, crystallized feelings that fit the literary form. In the technological reaction to tragedy, lyricism is lost. Keyboard clicks measure the terror and tears over the dead, who are mostly newcomers to our consciousness who came from far away places. We have no time for literary traditions that bind us through poetic imagery. Few students know the literary elegy, once a staple in the high-school English class.
"We weep for Adonais, he is dead." Shelley's lines on the death of the poet Keats are too affected, too erudite, too archaic to catch the swift current of emotions of global grieving. Elegiac feelings are democratized in anecdotes as we search for the telling detail in mass slaying. We feel both pity and fear, but at a distance. In a mosque in Christchurch in faraway New Zealand we see tiny Mucad Ibrahim, a 3-year old boy in white socks with textured grips on his tiny soles to keep him from slipping and falling, as he runs with a child's innocence toward the gunman. We're told by The Washington Post that he thinks he's playing a character in a familiar video game as he often did with an older brother.
For little Mucad, the youngest of the murdered in Christchurch, the sun set before it had time to climb very far into the sky. One of his brothers, using the mode he knows best, conjures spiritual feelings on Facebook in old-fashioned language we all understand: "Verily we belong to God and to Him we shall return. Will miss you dearly brother." Simple and heartbreaking, the personal is made public and moving. The tragedy of the youngest in the grim inventory of the dead gets a human voice in prayer. Verily.
As in epic poetry, we read a catalogue of multicultural mourners, witnesses from Somalia, Pakistan, India, Palestine and Bangladesh, moving slowly and mournfully past the mosque, leaving flowers, notes of remembrance, expressions of sorrow. As spectators from afar, we pray this tragedy will not spawn new violence. But we fear it might. Politicized tragedy has a way of doing that.
Mourning over the massacre has created self-righteous pity to be exploited for political gain. A vigil in New York City turned ugly when the political players tried to dictate who could mourn. Two New York University students turned on a pregnant Chelsea Clinton for daring to attend a vigil for those dead in New Zealand. Caught on a video that went viral, they fiercely attacked the former First Daughter because she had, in measured and reasonable voice, rebuked the antiSemitic sentiment of Rep. Ilhan Omar.
In the glib and melodramatic cliche popular on campus, the two students glibly boasted of taking their opportunity "to speak truth to power." Chelsea, they said, "hurt our fight against white supremacy when she stood by the petty weaponizers of anti-Semitism," they wrote on the website BuzzFeed. They "weaponized" their fingers, thrusting them in her face with the accusation that she caused the deaths of Muslims in their mosque with "the rhetoric you put out there."
This could be seen as obscene farce but for the fact that it is so mean and unrelenting in what passes for the public conversation. Verily.
Source>https://www.washingtontimes.com/news/2019/mar/20/we-feel-both-pity-and-fear-but-at-a-distance-after/