Disgraced Former Deputy AG Under Obama, FIRED By Trump For Insubordination, Puts Her Quasi 2 Cents In. So Far All Of The Real Colluders Are Out Of A JOB!
...tmiraldi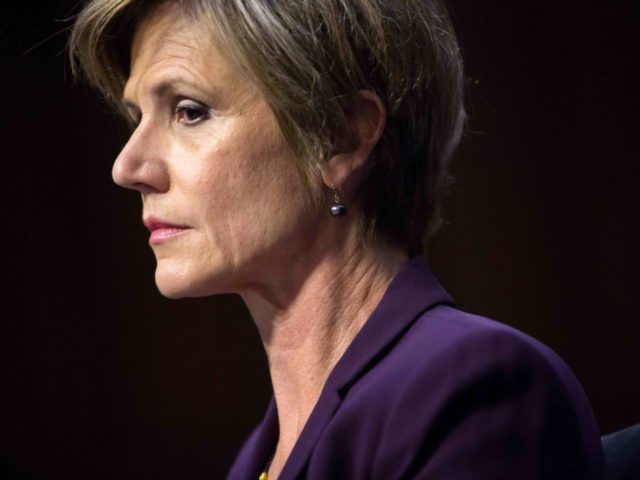 Zachary Halaschak
Being president is what saves President Trump from being indicted for obstruction of justice, former Deputy Attorney General Sally Yates said Sunday.
On NBC's "Meet the Press," Yates said if the Office of Legal Counsel hadn't determined that sitting presidents can't be indicted, Trump would likely have faced charges stemming from the findings in special counsel Robert Mueller's
448-page report
released this month.
"I have been a prosecutor for nearly 30 years. I can tell you I personally prosecuted obstruction cases on far, far less evidence than this," Yates said. "And, yes, I believe if he were not the president of the United States, he would likely be indicted on obstruction."
Although she said Mueller provides legal defenses for some of the potential acts of obstruction in the report, Yates added that "there are several incidents that he described to which special counsel Mueller really couldn't point to significant or factual legal defenses."
Yates cited the sections on former White House counsel Don McGahn as particularly damning. Mueller's team found that McGahn was told by Trump to
find a way to get Mueller fired
, but McGahn refused the order. Further, Mueller's investigators determined that when news of the order broke, Trump pressured McGahn to deny it was true.
Yates served as deputy attorney general under former President Barack Obama from 2015-2017, and briefly as acting attorney general for 10 days in 2017 until she was dismissed over her objection to an executive order restricting travel from seven Muslim-majority countries.
Source>
https://www.washingtonexaminer.com/news/sally-yates-trump-would-likely-be-indicted-on-obstruction-if-he-wasnt-president