USCIS chief says sponsors will pay back 'every dollar' immigrants use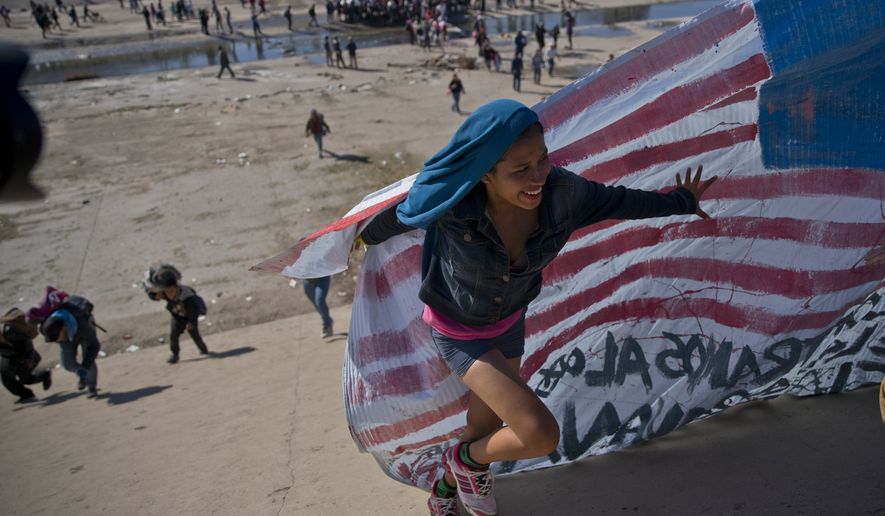 FILE - In this Nov. 25, 2018 file photo, a migrant woman helps carry a handmade U.S. flag up the riverbank at the Mexico-U.S. border after getting past Mexican police at the Chaparral border crossing in Tijuana, Mexico, as a group of migrants tries to reach the U.S. Activists, officials and social workers in Central America were staggered by the idea that U.S. President Donald Trump thinks he will help reduce immigration, by cutting off nearly $500 million in aid to Honduras, Guatemala and El Salvador; exactly the opposite will happen, they say. (AP Photo/Ramon Espinosa, File)
Stephen Dinan
Officers handling legal immigration cases will now warn people that they are under an obligation to support themselves rather than end up on the public dole, under a new policy implemented Friday by acting U.S. Citizenship and Immigration Services Director Ken Cuccinelli.
The warning will be issued both to the immigrant and his or her sponsor, who under the law has signed an agreement not to let the immigrant become a public charge.
In the new warning, UCSIS officers will "remind" sponsors that they can — and now will — be asked to pay back "every dollar" of welfare that the immigrants take.
"The president has made it a priority to ensure that every individual who seeks to come to the United States is self-sufficient, temporarily or permanently," Mr. Cuccinelli said in a memo to agency employees.
It's the first major public move by Mr. Cuccinelli, who became acting director this week.
It's also one of the boldest steps by the agency, which gets less attention that the Border Patrol or deportation officers, but which is nonetheless central to Mr. Trump's immigration plans.
That immigrants are supposed to be able to support themselves has long been a part of federal policy, dating back to the very first comprehensive immigration laws enacted in the 1800s.
But it's been rarely enforced.
The Washington Times reported in 2016 that of five major countries for immigration to the U.S., just three people were cited for being public charges in the years from 2013 to 2015. Immigration judges sustained just one of those cases.
USCIS is also working on new regulations that would expand the cases where migrants could be denied immigration passes or new visas if they become a public burden.
Under Clinton-era rules, the government only looks at a narrow set of welfare programs when determining if an immigrant has become a public charge. The Trump plan, still a work in progress, would add food stamps, public housing and long-term institutionalized care to the list.
That plan would save the government nearly $20 billion over a decade, the government argued in its draft proposal.
Immigrant-rights activists have complained that the rules would make it tougher for poor migrants to gain a foothold in the U.S., effectively giving a leg up to more successful immigrants.