Democrats Defy Federal Deportation Verdicts, Assist Illegals In Resisting Hearing Outcomes. Are Democrats Starting a
CIVIL WAR?
Again!
...tmiraldi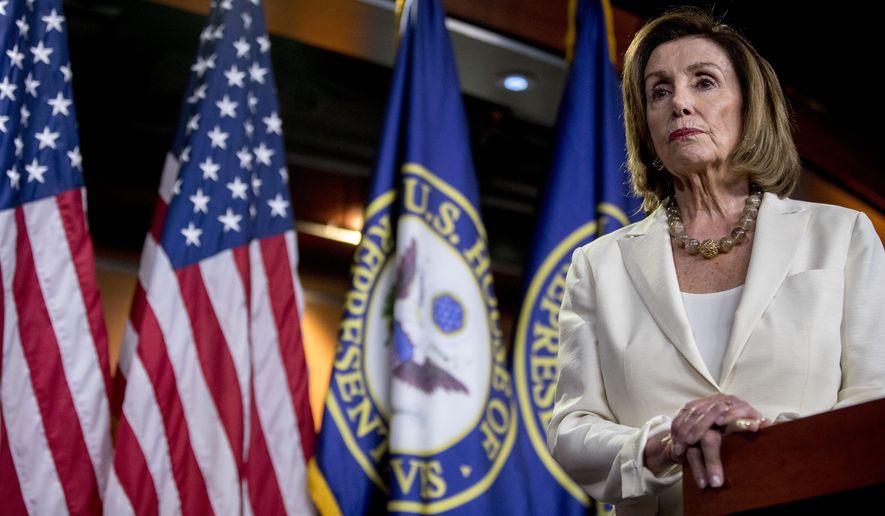 House Speaker Nancy Pelosi of Calif. listens to a question as she meets with reporters on Capitol Hill in Washington, Thursday, July 11, 2019. (AP Photo/Andrew Harnik)
Stephen Dinan
House Speaker Nancy Pelosi urged illegal immigrants to resist deportation Thursday, saying they have the right to refuse to open their doors to ICE officers who may try to arrest them in a national sweep reportedly beginning this weekend.
Mrs. Pelosi was in the vanguard of Democrats and immigrant rights activists who stepped forward to try to thwart President Trump's plans to step up deportations of illegal immigrant families. She described it as a major test of whether Mr. Trump's get-tough policies or their own more welcoming approach to illegal immigration will prevail.
"These families are hardworking members of our communities and our country. This brutal action will terrorize children and tear families apart," Mrs. Pelosi said.
The deportation sweep, which officials have been teasing for weeks, will begin Sunday, The New York Times reported, and will target 2,000 migrants across 10 major metropolitan areas.
The operation is meant to target members of illegal immigrant families who have arrived in the border surge. They have gone through their court hearings and been ordered deported, have been contacted by U.S. Immigration and Customs Enforcement about scheduling an orderly removal, and have ignored all those entreaties.
But ICE officials have said any other illegal immigrants encountered at the same time are also viable targets for arrest and deportation.
The threat of sweeps energized the entire expanse of left-wing activism.
"No matter who you are or what your status is, this is the United States of America — where ALL people have rights. Know yours," tweeted Rep. Alexandria Ocasio-Cortez, New York Democrat.
Mrs. Pelosi, at her weekly press conference, told illegal immigrants not to open doors to ICE. She said the administrative warrants that deportation officers carry do not give them the right to enter homes without permission.
"If ICE agents don't have a warrant signed by a judge, a person may refuse to open the door and let them in," she said.
One coalition of lawyers rushed to a federal court in New York to ask a judge to head off the deportations. The lawyers argued that anyone who was ordered removed in absentia and without an attorney should be granted an automatic new hearing.
They said some of the court notices were sent to the wrong addresses or didn't properly list the dates and times of the hearings. Other times, the notices were sent too late or asked the migrants to travel a distance, the lawyers said.
"We will not stand by and let the Trump administration arrest and deport thousands of Central American families and children without giving them a fair day in court," said Judy London, a lawyer at Public Counsel, one of the activist groups.
Senate Minority Leader Charles E. Schumer, New York Democrat, predicted that Mr. Trump will have to cancel the deportations once pictures of illegal immigrant children being arrested go viral.
"I warn President Trump, the pictures of these raids aren't going to be pretty," Mr. Schumer said on the Senate floor. "You're going to have to back off from this cruel policy because the American people are a lot better than you."
Mr. Trump's campaign team fired back by accusing Democrats of "sabotaging" the deportations and saying they were embracing an "open-borders" policy.
"If people who ignore court orders & stay in the U.S. illegally are not deported, we do not have rule of law," the Trump campaign war room said in a message on Twitter. "Democrats have become the party that puts illegal immigrants first!"
The sweep was scheduled to begin last month, but Mr. Trump said he would delay it in order to give Congress a chance to make progress on legislation aimed at curtailing the surge of families jumping the border.
Democrats did not accept the offer, and Mr. Trump said the deportations would be reinstated.
But some officials within the Homeland Security Department have been resistant to the deportations. They fear images of arrests of families, including young children, will further poison the immigration debate.
Indeed, media coverage is already skewing decidedly negative by playing down the unauthorized presence of the families and the fact that the migrants are defying deportation orders.
The debate over deporting this pool of migrants has raged inside the administration for months and was part of the reason Mr. Trump shook up the Homeland Security Department earlier this year.
Officials have been struggling with how to contain the record number of families jumping the border.
Of the families that arrived in 2017, 95% are still in the U.S., said ICE, pointing to that as an incentive for more people to migrate illegally this year.
Hoping to stem that number, Homeland Security and the Justice Department last year created a pilot program to speed up the schedule of hearings for some families. The thinking was that if families were sent home quickly, then it might discourage others from coming. A similar approach worked for the Obama administration in 2015 when it detained and deported the families.
Yet thanks to court rulings in 2015 and 2016, the Trump administration is now required to release families from detention quickly. Once free, 90% of the families ignored their hearings and were ordered deported in absentia.
ICE said it sent notices to thousands of the families in February and March asking them to check in and schedule an order of supervision so they could begin the deportation process. Most ignored that, too.