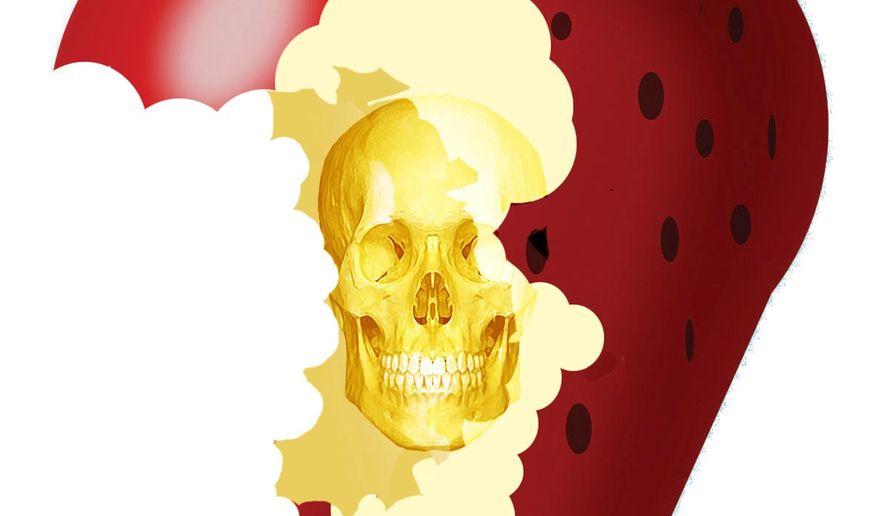 Illustration on sexual mis-education by Alexander Hunter
Everett Piper
ANALYSIS/OPINION:
This past week, Planned Parenthood celebrated the end of Pride Month by tweeting, "Young LGBTQ people need sex education that addresses their identities and experiences, so that they have the information and skills to take care of their sexual health."
I agree.
So, let's consider some facts. More specifically, let's look at the real numbers as reported by our own Centers for Disease Control and Prevention, the American Sexual Health Association and other pertinent health agencies.
The most recent data available from the CDC indicates that nearly 20 million new sexually transmitted disease cases occur every year in the United States. Of these cases, half are among young people who are between the ages 1524.
The same report shows that 25 percent of all millennial age women are presently infected with one or more STDs.
The American Sexual Health Association adds this alarming perspective: Presently one in two — 50 percent — of America's sexually active persons will contract a STD by age 25.
The CDC goes on to estimate that one in eight people between the ages of 14-49 in the United States currently have genital herpes.
In 2015, the rates of the three most commonly reported STDs — chlamydia, gonorrhea and syphilis — reached record highs. One-and-a-half million reported cases of chlamydia alone represent the highest number of annual cases of any condition ever reported to the CDC. Again, it is young people who suffer disproportionately with those between the ages of 15-24 accounting for 65 percent and 50 percent of chlamydia and gonorrhea diagnoses, respectively.
The reported cases of gonorrhea infection are on the rise and reaching all-time highs. The most recent available data shows nearly 400,000 new cases reported annually.
Often unreported is the fact that undiagnosed and untreated chlamydia and gonorrhea in women can lead to pelvic inflammatory disease, with their bodies so badly damaged that they will be infertile for the rest of their lives.
Going further, the CDC estimates that approximately 850,000 persons are living with hepatitis B in the United States alone. Other studies have estimated this number to be as high as 2.2 million. Hepatitis B can cause serious liver damage and chronic long-term infections. There is no medical cure once it is contracted.
Finally, 1.1 million people in the United States are presently suffering from HIV infection. Nearly 40,000 additional people are diagnosed with this precursor of AIDS each year. Of these new cases, 66 percent, or two-thirds, are reported to be caused by homosexual behavior. HIV continues to be a serious health issue worldwide. There are about 1.8 million new cases reported annually. Approximately 36.9 million people around the globe are currently infected. An estimated 940,000 people died from AIDS-related illnesses in 2017 alone.
The CDC also says 23 percent — nearly one-quarter — of all high school students in the United States who engage in same-sex behavior experience sexual violence from a same-sex partner. About 18 percent report being raped by someone within their sexual community. LGBTQ adolescents are also 90 percent more likely than heterosexual peers to abuse illicit drugs.
The Trevor Project reports that suicide is the second-leading cause of death among young people between the ages of 10-24. For youth "who seriously contemplate suicide," the rate for those engaged in same-sex choices is three times the rate of heterosexual youth. Actual suicide attempts for homosexual and "sexually fluid" youth are almost five times higher than for heterosexual youth. In a national study, 40 percent of transgender adults reported having made a suicide attempt. Ninety-two percent of these individuals reported having attempted suicide before the age of 25.
So, yes, I think we can all agree with Planned Parenthood that, "young people need sex education so that they have the information and skills to take care of their sexual health."
But, maybe, just maybe, sex education should focus on common sense and science rather than the science-denying nonsense of Planned Parenthood.
Is it possible that the best way to educate our children on how to "take care of their sexual health" is to tell them to abstain from sexual behavior that is proven to compromise their sexual health?
Call me crazy, but we might want to tell our kids that the best way to stay sexually healthy is to refrain from having sex with anyone but the one person (of the opposite sex) to whom they choose to be married.
And at the same time, we might want to remind them (as well as Planned Parenthood) that over 4,000 years of human history as well over 2 millennia of medical science has proven over and over again that if they do so, they wouldn't have to worry much about any of this.