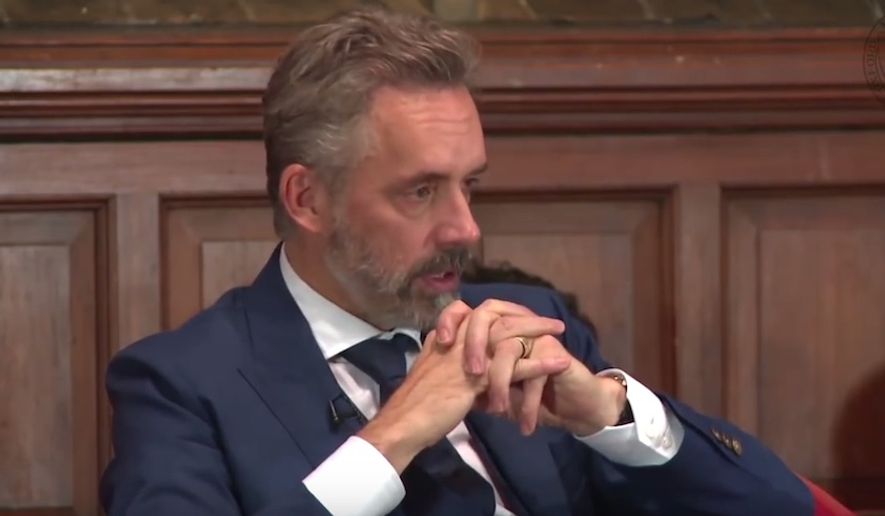 Clinical psychologist Jordan B. Peterson speaks to the Oxford Union during a May 2018 Q&A session. The full event was uploaded to YouTube on June 24, 2018. (Image: YouTube, Oxford Union screenshot)
Christopher Vondracek
Outspoken Canadian psychologist Jordan B. Peterson has advice for the Catholic church: Drop the emphasis on "mercy" over "justice" in its contemporary teachings.
"I don't think you guys ask enough of your people," Mr. Peterson said in a recently posted podcast interview with Los Angeles Auxiliary Bishop Robert Barron. "You're not giving them hell. If you really love someone, you can't tolerate when they are less than they could be."
Their 90-minute discussion on Mr. Peterson's eponymous podcast ranged from Clint Eastwood's "Gran Torino" to German philosopher Friedrich Nietzsche to the impact of American psychologist Carl Rogers' humanistic approach to therapy on Catholic seminaries.
"An entire generation of Catholic priests was formed under the Rogerian assumption, because that's what my generation got," Bishop Barron said, adding that the Catholic church could use a more instructional teacher such as a "Yoda on the shoulders," evoking an image of the "Star Wars" character training the would-be Jedi knight Luke Skywalker.
Their conversation was recorded in March and posted to Mr. Peterson's website in July and. As of Tuesday, the exchange tallied more than 195,000 views on YouTube.
Known for his criticism of political correctness, feminism and identity politics, Mr. Jordan has been evasive on questions of his personal faith but has stated that he is a Christian. He teaches psychology at the University of Toronto and is the author of "12 Rules for Life: an Antidote to Chaos."