The Abortion Legislation Rests on Shaky Legal Ground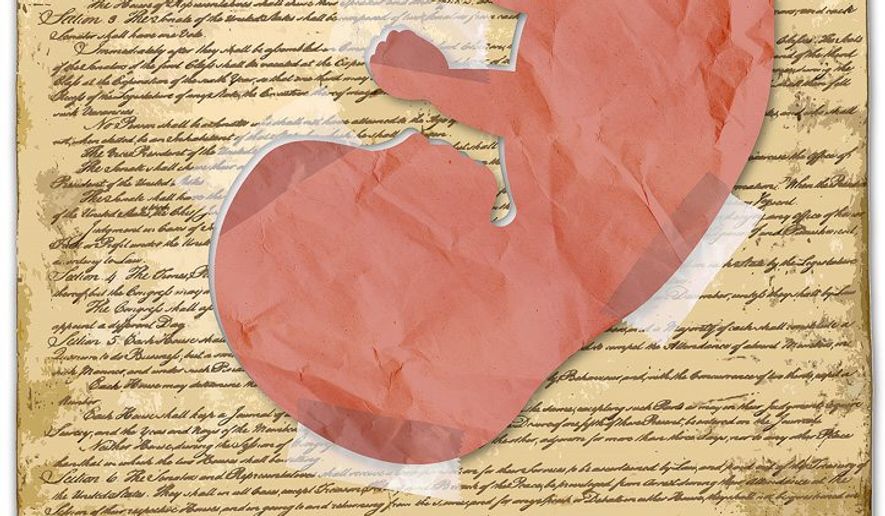 Constitutional Person Illustration by Greg Groesch
Kristan Hawkins
ANALYSIS/OPINION:
For more than 50 years, little changed in the legal fight over abortion after seven judges decreed its permissibility in Roe v. Wade. At the time, Laurence Tribe of Harvard Law School wrote that the decision imposed "limits on permissible abortion legislation so severe that no abortion law in the United States remained valid."
That was then; this is now. As Planned Parenthood's new president, Alexis McGill Johnson, told CBS, "We are very concerned about Roe. We have a court that hangs in the balance."
It was that concern that permeated the debate over Justice Brett Kavanaugh, who last summer was at the center of a conversation that includes the future of an abortion "right" and whether it was on firm legal ground.
In fact, the abortion decision forced on America in Roe rests on a virtual San Andreas legal fault line, shaky, legal ground that experts, both pro- and anti-abortion, have watched closely. With a number of cases headed to the U.S. Supreme Court to probe the cracks in the ruling, that fragile foundation is in question. But it's not only pro-life legal experts who see serious flaws in Roe.
Supreme Court Justice Ruth Bader Ginsburg, speaking at a University of Chicago Law School event in 2013, surprised the students with her analysis of Roe as faulty law for going too far, too fast, creating a target for activism. She also objected to the case's connection to privacy rights compared to women's rights in general.
"Roe isn't really about the woman's choice, is it?" Justice Ginsburg told the students. "It's about the doctor's freedom to practice … it wasn't woman-centered, it was physician-centered."
It was a concern for a legislating judiciary, trampling on the balance of powers, that concerned Justice Byron White, who dissented in Roe. In a later case, he wrote: "[T]he Constitution itself is ordained and established by the people of the United States … [D]ecisions that find in the Constitution principles or values that cannot fairly be read into that document usurp the people's authority, for such decisions represent choices that the people have never made, and that they cannot disavow through corrective legislation."
Justice Ginsburg agreed with that, too, saying that Roe was not a "measured motion" because it "invited no dialogue with legislators."
As The Wall Street Journal reported, author and attorney Clarke Forsythe in his book "Abuse of Discretion" has detailed the manipulations of Roe's activist and author, Justice Harry Blackmun. The justices "initially thought they were considering a narrow procedural question of when courts should intervene in pending criminal prosecutions. As a result, they decided the abortion cases without possessing a factual record about the medical, social and legal effects of various abortion restrictions."
That lack of legal effort to build an actual case for abortion remains a glaring mistake leaving the judge-created foundation for Roe open to interpretation. Without a strong foundation in law and fact, the opinion is just that — opinion.
A 1973 Yale Law School article, titled "The Wages of Crying Wolf: A Comment on Roe v. Wade," has cutting things to say about the abortion case from abortion supporter and legal luminary John Hart Ely.
Mocking the Supreme Court's choice for viability as a "magic moment" that offers certain rights without explaining their thinking, Mr. Ely goes on to write that in fact, "It has never been held or even asserted that the state interest needed to justify forcing a person to refrain from an activity, whether or not that activity is constitutionally protected, must implicate either the life or the constitutional rights of another person. Dogs are not 'persons in the whole sense' nor have they constitutional rights, but that does not mean that the state cannot prohibit killing them."
"Roe is bad because it is bad constitutional law," Mr. Ely observes, "or rather because it is not constitutional law and gives almost no sense of an obligation to try to be.
Today the lazy, legal reasoning of Roe is clearer. Why can't women be protected from abortion vendors, who claim to be medical practices? Why would we allow a baby born during an abortion to suffer and die? The camouflage wears thin on these legitimate questions.
All of this explains the sudden resurgence of another historical footnote, the Equal Rights Amendment (ERA), better named the Everything Related to Abortion Act. With Roe in trouble, activists are trying to build their legal house of cards somewhere else.
Feminist advocates for ERA understood that abortion's legal hold was tenuous. Betty Friedan stated in her March 1978 letter to the International Women's Year Conference delegates: "I am convinced if we lose this struggle for the ERA, we will have little hope in our own lifetime of saving our right to abortion."
As Anne Schlafly Cori and I have written, a revised effort to pass the ERA is an attempt to shore up abortion's shaky hold on the Constitution. To prepare for the day after Roe, groups like mine are working state by state to train up this generation to help both mother and preborn child and to strengthen family-friendly policies. And as we've already done in states over the last year, we are opposing ERA, Roe 2.0, wherever it reappears.
The first time abortion was in court, the facts about its impact were not addressed, but the pro-life movement is now ready for that debate. Pregnancy is not a disease cured by abortion, which leaves behind its own problems without delivering prosperity. After an abortion, a woman still needs social, economic and educational equality. Rather than getting rid of one person because they might suffer, let's address the suffering and equip both mother and child to succeed.