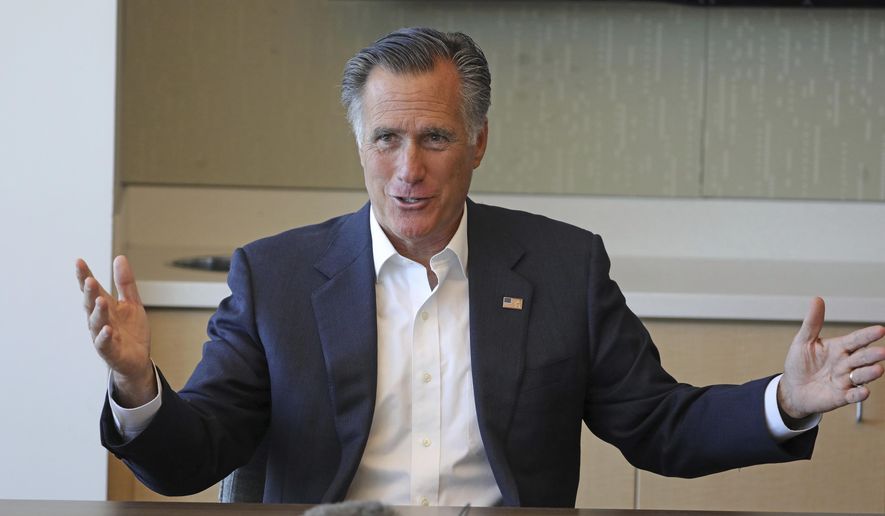 Sen. Mitt Romney, R-Utah, speaks during a roundtable discussion at Intermountain Primary Children's Hospital with officials and health experts to receive an update on anti-vaping efforts Thursday, Oct. 10, 2019, in Salt Lake City. In his first public appearance since President Donald Trump unleashed a storm of insults on Twitter, Mitt Romney stuck by his criticism of Trump's actions but said he'll likely win re-election. (AP Photo/Rick Bowmer)
Jessica Chasmar
Sen. Mitt Romney admitted Sunday that he uses a secret Twitter account called "Pierre Delecto" to keep tabs on political debates unnoticed.
The 2012 Republican presidential nominee and former Massachusetts governor first mentioned the account during an interview with The Atlantic on Sunday, saying "I won't give you the name of it," but, "I'm following 668 people."
After some digging, Slate's Ashley Feinberg theorized that Mr. Romney was behind the Twitter handle @qaws9876, otherwise known as Pierre Delecto. His activity on the account included defending himself and liking tweets critical of the Trump administration.
The Utah senator later admitted that he was behind the account.
"C'est moi," he told The Atlantic.
The Pierre Delecto account, which was created in 2011 during Mr. Romney's presidential campaign, has since been made private.
At least one Democrat applauded Mr. Romney's move. Former Secretary of State John Kerry tweeted, "Touché, Sénateur @MittRomney. J'approuve!"