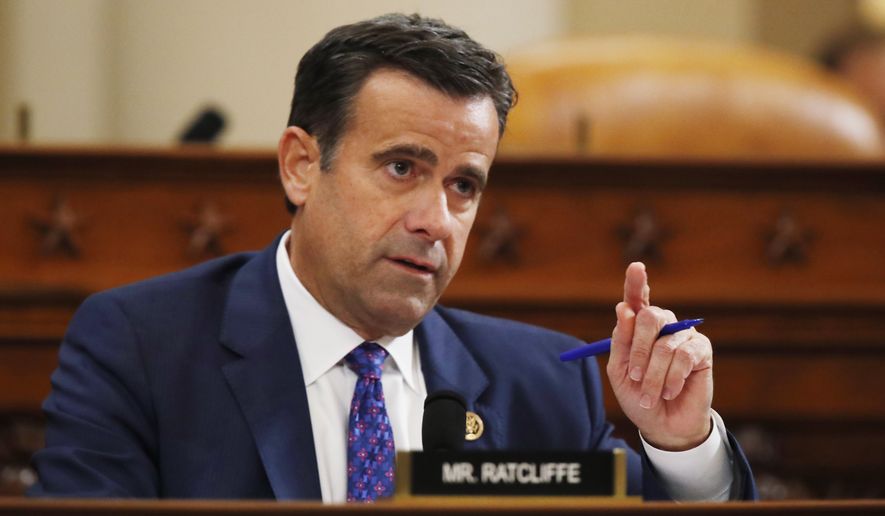 Rep. John Ratcliffe, R-Texas, speaks during a hearing with top U.S. diplomat in Ukraine William Taylor, and career Foreign Service officer George Kent, before the House Intelligence Committee on Capitol Hill in Washington,
Wednesday, Nov. 13, 2019, during the first public impeachment hearing of President Donald Trump's efforts to tie U.S. aid for Ukraine to investigations of his political opponents. (AP Photo/Alex Brandon)
S.A. Miller
A Republican lawmaker challenged the Democrats' star witnesses at an impeachment hearing Wednesday to say they had evidence that warrants removing President Trump from office.
"Are either of you here today to assert that there was an impeachable offense in that call? Shout it out. Anyone?" said Rep. John Ratcliffe, Texas Republican.
Mr. Kent, a deputy assistant secretary who oversaw Ukraine policy, remained mum.
Mr. Taylor, the former U.S. charge d'affaires in Ukraine, said that was not his role at the hearing.
"I am not here to do anything having to do to decide about impeachment. that is your job," he said.
Mr. Taylor and Mr. Kent have testified that they were alarmed that Mr. Trump's actions were politicizing U.S. policy in Ukraine.
Mr. Taylor said he believed that Mr. Trump was withholding $391 million in U.S. military aid and a promised White House visit to pressure the Ukraine president to political rival Joseph R. Biden and his son Hunter.
In questioning the witnesses, several Republican lawmakers pressed Mr. Taylor about the fact that the military aid was released without Ukraine complying with any of the conditions allegedly placed on it by Mr. Trump.
Mr. Taylor insisted that the pressure was applied.