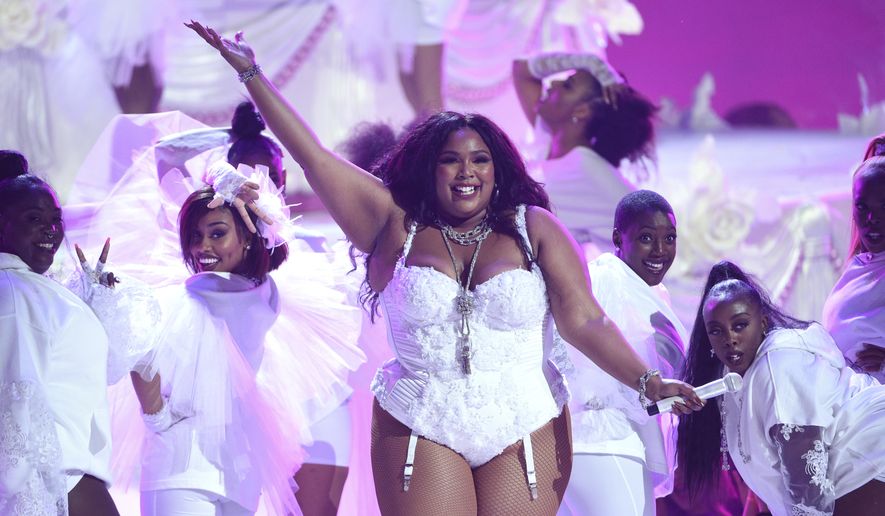 Lizzo performs "Truth Hurts" at the BET Awards in Los Angeles on June 23, 2019. (Photo by Chris Pizzello/Invision/AP)
Jessica Chasmar
Lizzo fired back on Twitter after black author and social justice advocate Boyce Watkins said the singer's biggest claim to fame is being obese.
"Lizzo is popular because there is an obesity epidemic in America," Mr. Watkins wrote. "Rather than encouraging people to do better, we are simply lying to them and telling them that they are just fine the way they are. Unfortunately, Many of these people are dying from diabetes and heart disease."
"Why #Lizzo is popular: We take toxic, deadly, dysfunction and make it cool," he said. "All of us are worthy of love, but we should not encourage our people to be unhealthy."
Lizzo responded that "the only person who needs to do better is you."
"I'm popular because I write good songs and I'm talented and perform high energy hour and a half shows filled with love," the "Truth Hurts" singer tweeted. "Keep my name out ya mouth & look in the mirror before you come for me. Here's the attention you ordered."
Mr. Watkins vehemently disagreed. After Lizzo performed on "Saturday Night Live" over the weekend, he fired off a handful of tweets also accusing the singer of performing "minstrel" shows for white audiences and promoting bad behavior to young girls.
"Watching #Lizzo dressed in all Gucci on SNL singing about the joys of being fat and raunchy makes me think of slaves performing for massa and his friends on the plantation," he wrote. "'We are here to serve you in every way imaginable. Just keep bringing dem biscuits.'
"Anybody out here defending mammyism is out of their [expletive] mind." he said. "This lady is an embarrassment to the entire black community."