Where was Schumer Big Mouth when Democrats stopped Republicans from Questioning Witnesses in Congress?
...tmiraldi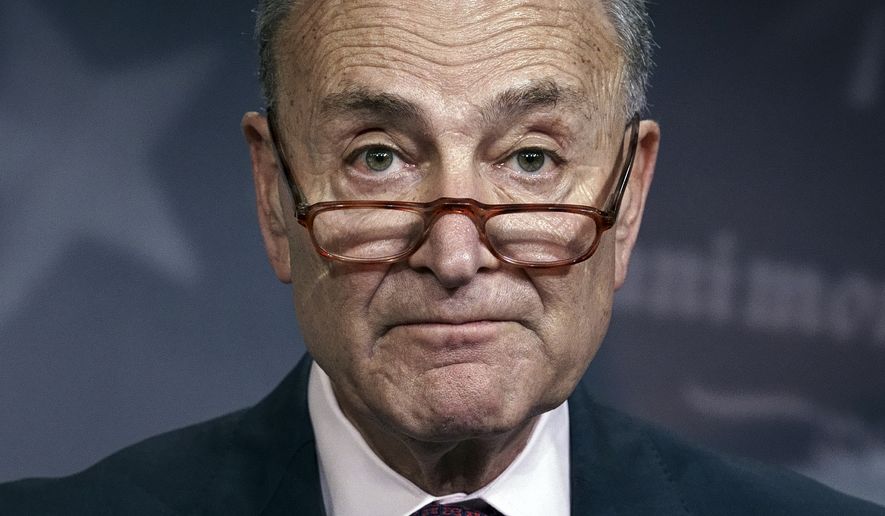 FILE - In this Monday, Dec. 9, 2019, file photo, Senate Minority Leader Chuck Schumer, D-N.Y., speaks to reporters on Capitol Hill in Washington. Senate Democrats are proposing a weekslong Senate impeachment trial seeking testimony from four new witnesses including John Bolton and Mick Mulvaney over President Donald Trump's actions toward Ukraine, according to a detailed outlined released Sunday, Dec. 15. Schumer proposed the structure for a "fair and honest'' trial in a letter to Majority Leader Mitch McConnell. (AP Photo/J. Scott Applewhite, File)
Alex Swoyer
Senate Minority Leader Charles Schumer, New York Democrat, said Monday Republican senators and President Trump should agree to have four witnesses testify at the impending impeachment trial, which is likely to kick off next month.
Mr. Schumer said he wants White House Chief of Staff Mick Mulvaney, his senior adviser Robert Blair, former National Security Adviser to Mr. Trump John Bolton, and his associate deputy director Michael Duffey to give live testimony during the impeachment trial.
He said they all have direct knowledge about Mr. Trump's decision making in regards to withholding aid to Ukraine.
"To conduct a trial without the facts is saying we are afraid. We have something to hide," Mr. Schumer said.