OBAMA: 'Not a Smidgen of Scandal'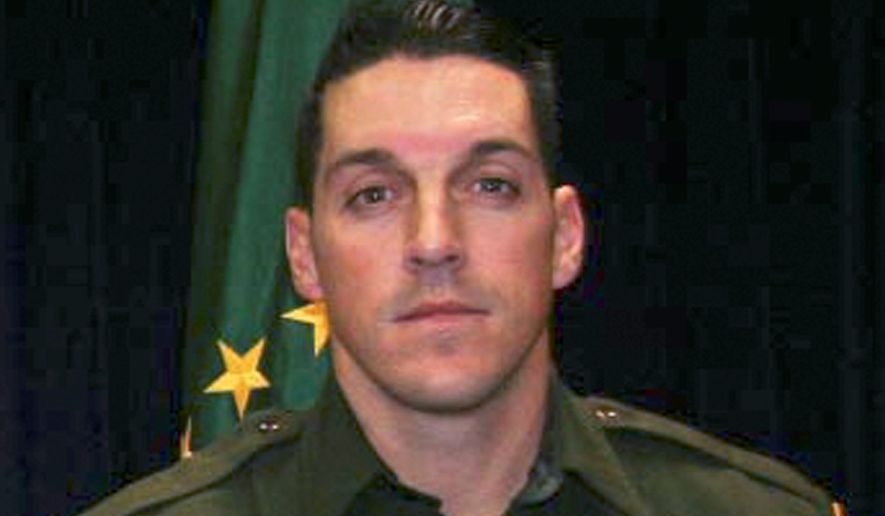 This undated photo provided by U.S. Customs and Border Protection shows U.S. Border Patrol agent Brian A. Terry. Terry was killed in a 2010 firefight near the Arizona-Mexico border between U.S. agents and five men who had sneaked into the country to rob marijuana smugglers. On Monday Nov. 18, 2013 a judge dismissed federal employees from a wrongful death lawsuit filed by the family of the slain Border Patrol agent over the botched "Fast and Furious" gun operation. (AP Photo/U.S. Customs and Border Protection, File)
Stephen Dinan
One of the men convicted of killing Border Patrol Agent Brian Terry in 2010 was sentenced Wednesday to life in prison for the crime, which shocked the country and exposed the Obama administration's Fast and Furious gun-walking operations.
Heraclio Osorio-Arellanes was part of a rip crew preying on drug smugglers when Terry and fellow agents came upon them.
The rip crew opened fire on the agents and in the exchange of gunfire, Terry was hit in the lower back and died of the wound.
Osorio-Arellanes is one of seven people prosecutors charged with involvement in Terry's murder. He was arrested by Mexican authorities in 2017 and extradited to the U.S. in 2018. A jury convicted him last February.
Five others have previously been convicted and sentenced. A final defendant is still awaiting extradition from Mexico.
"A life sentence for Agent Terry's murder cannot eliminate his family's suffering. But it is our hope that this sentence brings some degree of comfort to Agent Terry's family in knowing that the individuals responsible for his murder will be held accountable," said Robert Brewer, the U.S. attorney in the Southern District of California.
At least one of the guns found at the scene of the shooting was part of Fast and Furious, the
Obama administration
's effort to try to track illegal gun trafficking by
knowingly allowing weapons to be sold to gun-runners.
The
administration
lost track of hundreds of them.
The Terry murder exposed the "gunwalking" operation, which became a significant black eye for President Obama's team.
Then-Attorney General Eric H. Holder Jr. would be held in contempt of Congress — a first — for refusing to turn over documents related to the operation.