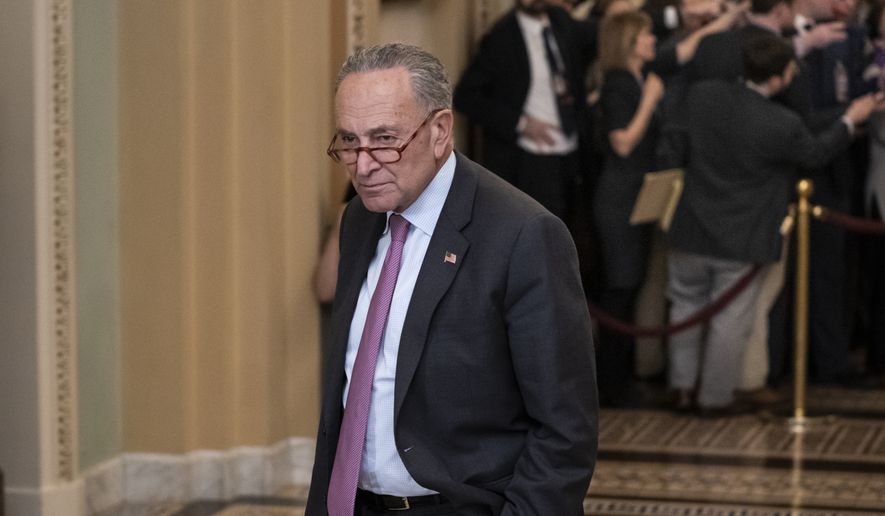 Scott Applewhite


Alex Swoyer

and

S.A. Miller


One protester erupted inside the Senate chamber on Wednesday during President Trump's impeachment trial, yelling that Senate Minority Leader Charles E. Schumer is the "devil."

The man, who the press was restricted from viewing, was promptly arrested.

Capitol Hill staff identified him as Rive Miller Gorgan, a preacher and anti-abortion activist, who climbed a tree during President Obama's inauguration and refused to come down.

He is known for bizarre outbursts and stunts at the Capitol, having been arrested many times and banned until recently.

A police officer told Capitol staff the man had said he would not act up, but upon entering the chamber began screaming.

Reporters inside the chamber at the time said before the man was escorted out he yelled, "dismiss the charges," referencing the two impeachment charges: abuse of power and obstruction of Congress.

Sen. John Kennedy, Louisiana Republican, said the outburst was startling.

"We didn't see it coming. I'm surprised there hasn't been more of it," he said.

"There are a lot of crazies out there — and I'm not saying they aren't well-intentioned but it is disruptive when it happens and I think our security has done a good job."

There has been a noticeable absence of protesters around Capitol Hill during the impeachment trial so far, drawing stark comparisons to the confirmation hearings for Supreme Court Justice Brett M. Kavanaugh in 2018, which resulted in hundreds of arrests.