Political sweetheart deals leave the Caribbean jewel on the brink of bankruptcy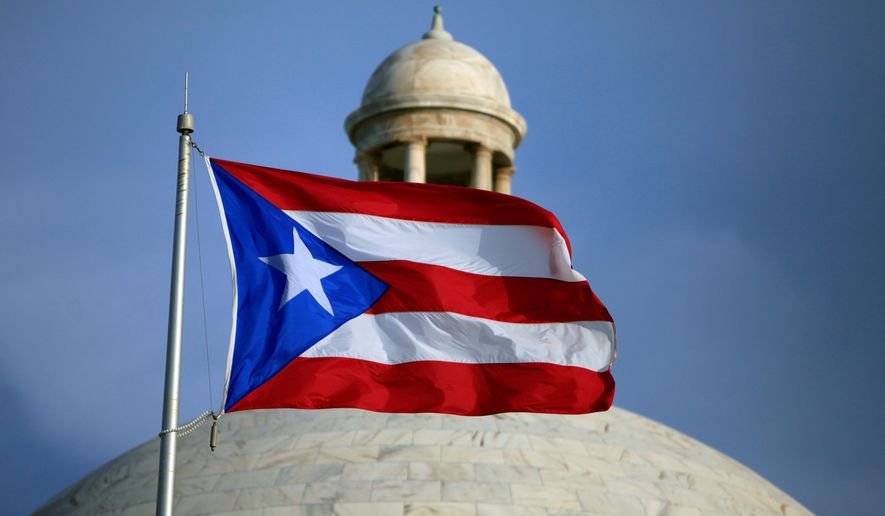 FILE - In this July 29, 2015 file photo, the Puerto Rican flag flies in front of Puerto Rico's Capitol as in San Juan, Puerto Rico. A senior Puerto Ricon official said Tuesday, Feb. 11, 2020, that the island's government has lost
more than $2.6 million after falling for an email phishing scam. (AP Photo/Ricardo Arduengo, File)
THE WASHINGTON TIMES
ANALYSIS/OPINION:
It's been several years since Puerto Rico was wrecked by successive hurricanes. Yet, as we recently found out, insufficient progress has been made toward normalcy because the territorial government is in worse shape than the infrastructure.
It's a shame it took a natural disaster to expose endemic corruption going back years. Sweetheart deals between the politicians and the unions that put them in office have left America's Caribbean jewel on the brink of bankruptcy. Congress stepped in near the end of the Obama administration with legislation leading to the appointment of an independent financial oversight board authorized to restructure the debt owed to the island's creditors. So far, it's work has been sub-par — in part because corrupt local officials devoted their efforts to finding workarounds to keep the money flowing rather than pitching in on a plan to put things right.
Things cannot be allowed to continue as they have. Puerto Rico will continue to find it difficult to attract the capital investment needed to rebuild essential infrastructure if the markets cannot be guaranteed those investments make sense. An audit that laid out in plain and easy to understand terms how deep the debt runs and identifying the roadblocks hampering efforts to pay it back would be a good first step.
House Natural Resources Committee Chairman Raul Grijalva, Arizona Democrat, recently called on the island's financial overseers to define the government's essential services so everyone can understand better which services cannot be reduced and for an audit of the island's debt.
There's always a risk in any investment. Buying government bonds and investing in utilities are less speculative than other investments and, therefore, considered safer. If it defaults — and there's no sentiment in the current administration for a U.S. government bailout if they do — then investors will be left holding the bag while the capital markets shut Puerto Rico out. The money needed to get the lights back on, the hospitals and phones fully functioning, and to make other repairs and improvements to make the next hurricane less damaging won't be there.
The oversight board is pushing a plan to restrict more than $50 billion in unfunded pension liabilities that creditors are calling insufficient. Those owed money want a clearer picture of the finances than they have been given — and to which they are entitled. Puerto Rico can't dig itself out of the hole it's in until we know how deep it is. The audit Mr. Grijalva and others want is badly needed and should begin post-haste.