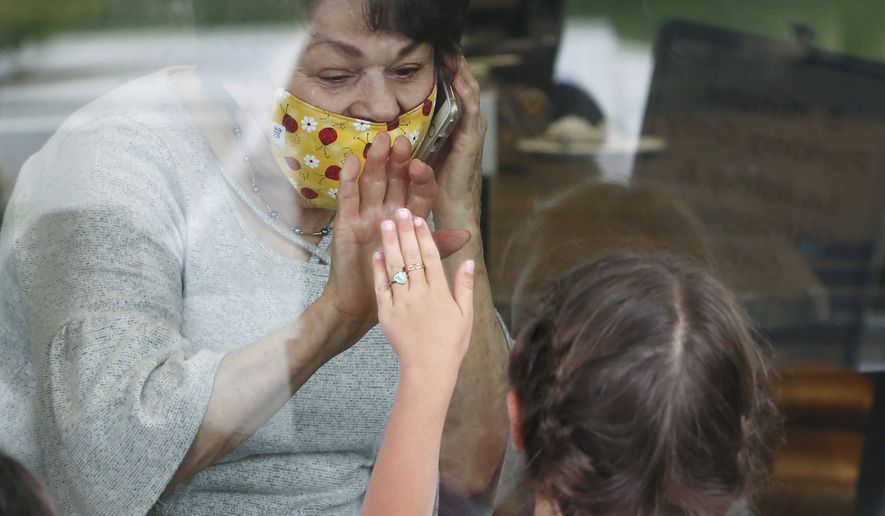 Raelene Critchlow, 86, receives a visit from her great-grandchild Camille Carter, 6, at Creekside Senior Living, Thursday, April 23, 2020, in Bountiful, Utah. Window visits help seniors connect to families despite coronavirus
restrictions. (AP Photo/Rick Bowmer)
ANALYSIS/OPINION:
The young of each generation like to think of themselves as freewheeling risk-takers. The real daredevils, albeit reluctant ones, are their elders who are risking life and limb in nursing homes during the era of contagion. Thanks to unwise policies crafted by public officials, thousands of seniors have lost their lives when forced into close proximity with infected cohabitants. When the deadly scourge has passed, brokenhearted survivors will be owed an explanation of why their loved ones were not better protected.
The China-originated virus called COVID-19, which since January has killed more than 217,000 worldwide and close to 60,000 Americans, has been particularly lethal to individuals advanced in years. With many already health-compromised, those 65 and older have comprised close to 80 percent of all U.S. coronavirus deaths reported to the Centers for Disease Control and Prevention.
In New York, the epicenter where 40 percent of all U.S. coronavirus deaths have occurred, health department officials drew up a plan early on to place infected patients in nursing homes caring for the frail elderly, purportedly to free up the state's acute-care hospital capacity.
"During this global health emergency, all NHs must comply with the expedited receipt of residents returning from hospitals to [nursing homes]. Residents are deemed appropriate for return to a NH upon a determination by the hospital physician or designee that the resident is medically stable for return," reads a March 25 advisory to nursing home administrators. Then comes the lethal kicker: "No resident shall be denied re-admission or admission to the NH solely based on a confirmed or suspected diagnosis of COVID-19. NHs are prohibited from requiring a hospitalized resident who is determined medically stable to be tested for COVID-19 prior to admission or re-admission."
Institutions pleading an inability to cope with the virus may refuse a patient, but the policy nudges staff members to err on the side of danger. The effect is to play Russian roulette with the lives of the most vulnerable. It's no wonder that more than 3,500 patients died from the virus in New York state nursing homes, according to The Wall Street Journal. New Jersey and California have adopted the same risky policy that has contributed to the nearly 12,000 residents who have perished in nursing homes across the nation.
Coronavirus infections and deaths amid long-term care facilities are mounting elsewhere as well, including the Washington, D.C. metropolitan area. More than 2,000 patients and staff members at 255 regional nursing homes have contracted the virus, reports The Washington Post. Among the fatalities are 34 patients in nearby Prince George's County and 15 in the District.
All told, as many as 20 percent of all U.S. COVID-19 deaths have been suffered by institutions for the aged, according to an ABC News survey. And the carnage to the elder population is not just an American phenomenon. As many as half of all coronavirus deaths in Europe have occurred in long-term care facilities, something leading World Health Organization official Hans Kluge described as "an unimaginable human tragedy."
The shock of coronavirus carving a swath of death through Washington state's Life Care Center of Kirkland as the outbreak took hold should have signaled the necessity of across-the-board testing in order to keep COVID-19 out of nursing homes. Instead, TV viewers have watched fellow barred from entry forced to wave to elderly loved ones through institution windows. Little do they realize that in some cases, the deadly disease is locked in with them.
Consequently, undetected virus carriers moving among the frail have proved deadly. Long-term care facilities are not equipped with isolation wards, and to pressure them to accept patients untested for the disease is the epitome of recklessness.
When the virus dissipates and emergency conditions relax, citizens who have lost loved ones can be expected to engage in a venerable post-disaster tradition: suing somebody. Legal redress is likely to prove fruitless in states, including hard-hit New York and New Jersey, where nursing homes have been immunized from liability in their handling of the contagion. Negligence that costs lives is never acceptable, but neither is punishing institutions that have been suddenly pushed out on a pandemic high wire with no safety net.
It is elected officials who should explain their policies that, in retrospect, have done more harm to vulnerable seniors than good. Then finally, Americans still seeking justice should set their sights on the root source of their ire — China.