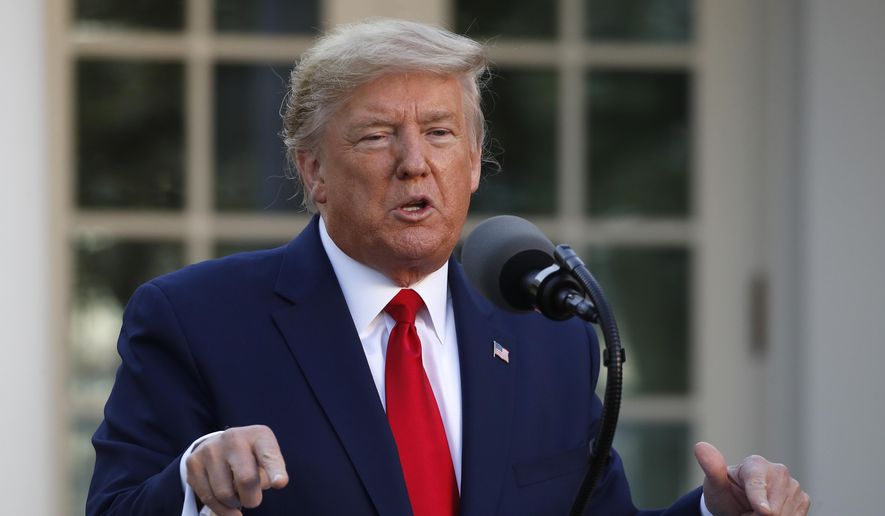 President Donald Trump speaks about the coronavirus in the Rose Garden of the White House, Monday, March 30, 2020, in Washington. (AP Photo/Alex Brandon)
Cheryl K. Chumley
ANALYSIS/OPINION:
A professor at Texas Tech University suggested in an email to Physics Department colleagues that he considering renouncing his atheism if — get this — President Donald Trump were to die from the coronavirus.
So a horrible untimely death of the president would bring this man to faith? That's despicable.
That's also a solid reason to take the estimated $27,000 in-state or $39,000 out-of-state costs per year to attend this school and spend the money elsewhere.
When confronted by Campus Reform about the quip, Wigmans said he hadn't "expressed such a wish" for Trump to die from the coronavirus.
He said he's being misinterpreted.
Wigmans said his statement is being blown out of proportion and taken out of context and wrongly interpreted as a death wish to the president — and that "this [was] a statement about myself, not about someone else."
Spoken like a true liberal: When caught red-handed, spin, spin, spin. Feign innocence, and the innocence will come.
But one has to wonder: What if Trump had said the same about, say, House Speaker Nancy Pelosi? Or a member of the media? There'd be mass hyperventilating, widespread hysteria.
The takeaway is this: The mass closing of schools and colleges due to the coronavirus may actually be a blessing in disguise. It'll keep the kids away from the overeducated fools of so-called places of higher learning, if only for a few months longer.