CUOMO PRAISES THE DEVIL!
...tmiraldi
Sean Hannity
Every New Yorker needs to know that Gov. "all talk no action" Andrew Cuomo has failed to deliver for the people of his state during the crisis created by the coronavirus pandemic.
Everyone needs to read this report.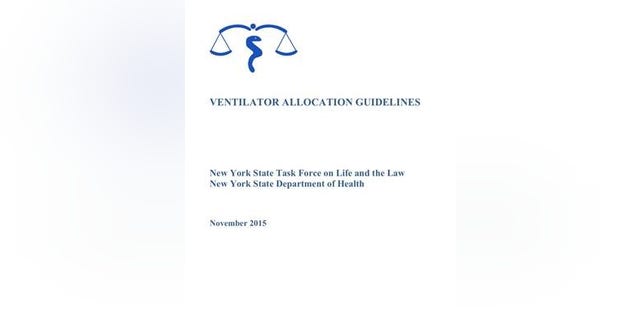 On Page 30 the Health Department report on ventilator allocation guidelines states: "during a severe influenza pandemic, there is likely to be a projected shortfall of ventilators (-15,783) during peak week demand."
But that's not all. At the beginning of that report the New York State Health Commissioner, Dr. Howard Zucker wrote: "Dear New Yorkers, Protecting the health and well-being of New Yorkers is a core objective of the Department of Health. During flu season, we are reminded that pandemic influenza is a foreseeable threat, one that we cannot ignore. In light of this possibility, the Department is taking steps to prepare for a pandemic and to limit the loss of life and other negative consequences.
"An influenza pandemic would affect all New Yorkers, and we have a responsibility to plan now. Part of the planning process is to develop guidance on how to ethically allocate limited resources (i.e., ventilators) during a severe influenza pandemic while saving the most lives.
"As part of our emergency preparedness efforts, the Department, together with the New York State Task Force on Life and the Law, is releasing the 2015 Ventilator Allocation Guidelines, which provide an ethical, clinical, and legal framework to assist health care providers and the general public in the event of a severe influenza pandemic…"
Where was the response from the governor? Where was the sense of urgency after such an explicit warning?
Gov. Cuomo refused to act. He did not listen. He bought zero ventilators. The cost to purchase the needed ventilators was only 0.4 percent of the 2015-2016 state budget.
Instead of buying life-saving ventilators, Cuomo wasted hundreds of millions of dollars on failed projects, like $750 million on a failed solar panel factory, $90 million on a partnership with a California light bulb company that went nowhere, and $600 million on a computer chip factory that went bust.
I saw this picture today and couldn't believe what I was seeing.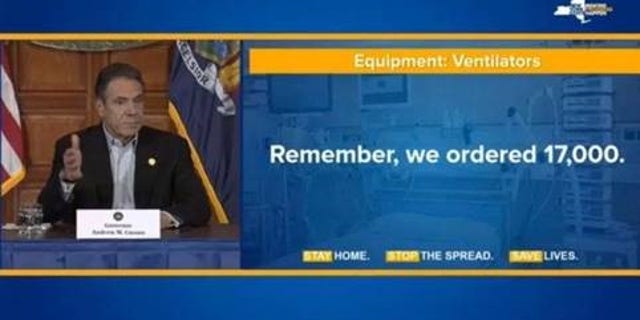 Wow. This was almost the exact number the New York Health Department report predicted would be needed.
And it gets worse, because now Cuomo is actually thanking and praising the Chinese government! Look at this tweet:
Cuomo is thanking the Chinese government that lied to the entire world about the coronavirus from the start.
Cuomo is "all talk no action" because he loves to show up for photo ops at various emergency hospitals that the federal government constructed like the Javits Center and the 1,000-bed U.S. Navy hospital ship Comfort.
All New Yorkers need to know that President Trump is the one who sent the USNS Comfort to New York Harbor. All New Yorkers need to know that it was the Army Corp of Engineers that built the 3,000-bed hospital at the Javits Center and the other hospitals throughout the state.
And all New Yorkers need to know that it was President Trump who gave Cuomo over 4,400 ventilators. By the way, Cuomo ended up putting those ventilators sent by the president into a warehouse!
Frankly, New Yorkers deserve better. They deserve better than to have a governor continue to put petty politics above real solutions.
I thought Cuomo was "pro-choice. But because of an executive order he issued, any new prescriptions of potentially life-saving drugs for patients suffering from COVID-19 – the disease caused by the coronavirus – such as hydroxychloroquine must be dispensed through the already overrun hospital system.
This is a disaster and Cuomo has no one to blame but himself. He should stop putting up dangerous barriers when lives are at stake.
To those who criticize me, I say this: I am a New Yorker. My family lives here. There are thousands of new cases on Long Island where I live. I have friends fighting for their lives in hospitals right now. After reading the New York Health Department report from 2015 I am furious. Everything the report predicted five years ago is happening today.
What we have witnessed from the governor is a dereliction of duty. On Jan. 24, he said the risk to New Yorkers was low. On Feb. 7, he claimed that "catching the flu right now is a much greater risk than anything that has anything to do with coronavirus."
The fact is, Cuomo has been wrong over and over again.