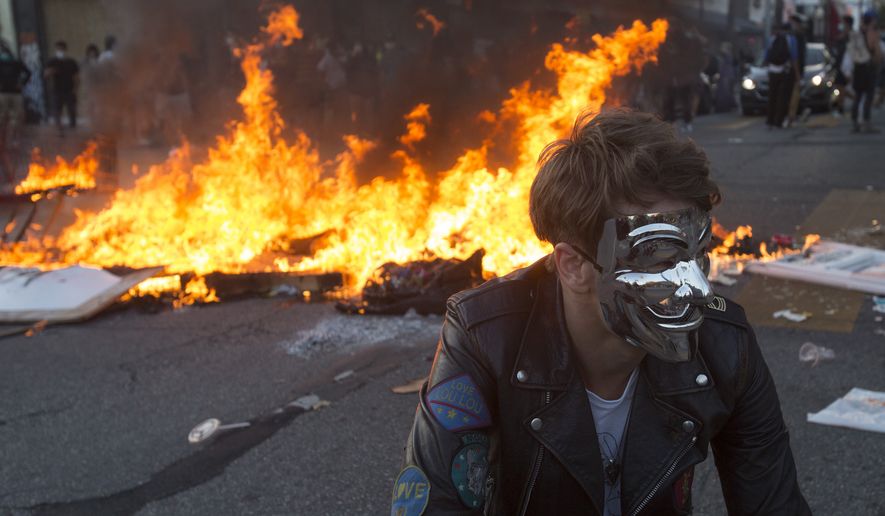 A protester wearing mask poses for photos in front of a fire during a protest over the death of George Floyd, a handcuffed black man in police custody in Minneapolis, in Los Angeles, Saturday, May 30, 2020.
(AP Photo/Ringo H.W. Chiu)
Tom Howell Jr.

and

Jeff Mordock
The U.S. will designate the "Antifa" group as a terrorist organization, President Trump said Sunday, as his administration blames the leftist organization for much of the violence at police-brutality protests across the country.
Mr. Trump announced his plan in a series of tweets about the ongoing unrest in multiple cities in the wake of George Floyd's death. Mr. Floyd, a black man, died after a white officer kneeled on his neck area for nearly nine minutes during an arrest in Minneapolis.
The president has blamed far-left "militants" for the violence, including looting and fires, at the resulting protests, while Democratic voices say more investigation into white nationalist intervenors is warranted.
Groups like the American Civil Liberties Union immediately questioned Mr. Trump's intentions, saying the terror designation is reserved for foreign entities and the label may be stretched for nefarious purposes.
"As this tweet demonstrates, terrorism is an inherently political label, easily abused and misused. There is no legal authority for designating a domestic group. Any such designation would raise significant due process and First Amendment concerns," ACLU National Security Project Director Hina Shamsi said.
Mr. Trump hasn't delivered an address to the nation on the protests, though he did speak about the situation at length after the SpaceX launch in Florida on Saturday.
He said the unrest is untenable and praised the National Guard for stepping in as he faults Democratic leaders for letting riots get out of control.
"Congratulations to our National Guard for the great job they did immediately upon arriving in Minneapolis, Minnesota, last night," he tweeted. "The ANTIFA led anarchists, among others, were shut down quickly. Should have been done by Mayor on first night and there would have been no trouble!"
Attorney General William P. Barr hailed the decision, saying "outside radicals and agitators" are exploiting Mr. Floyd's death for their own "violent and extremist agenda."
Mr. Barr, the nation's top cop, said he's directed federal agents to apprehend and charge the "violent radical agitators who have hijacked peaceful protest." He said more than 56 regional FBI Joint Terrorism Task Forces will work with state and local partners to identify lawbreakers.
"It is time to stop watching the violence and to confront and stop it," he said. "The continued violence and destruction of property endangers the lives and livelihoods of others and interferes with the rights of peaceful protesters as well as other citizens."