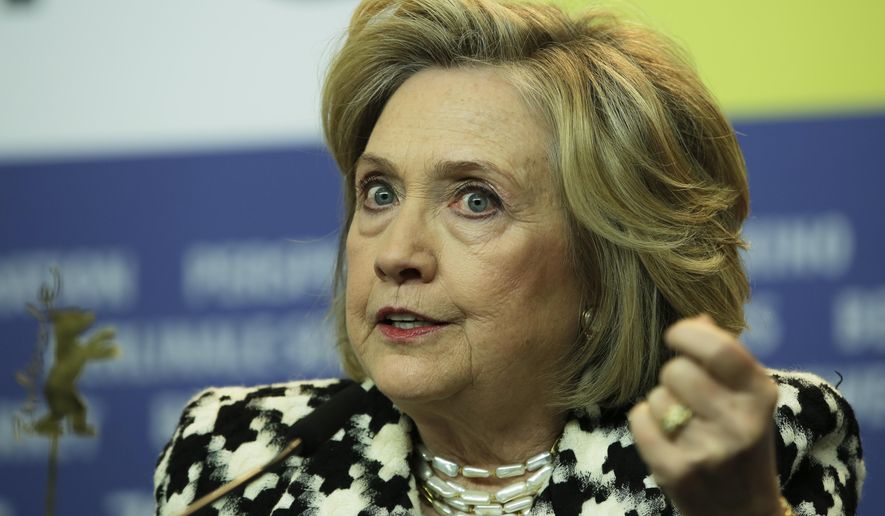 Former U.S. Secretary of State, Hillary Clinton, attends a news conference for the film "Hillary" during the 70th International Film Festival Berlin, Berlinale in Berlin, Germany, Tuesday, Feb. 25, 2020. (AP Photo/Markus Schreiber)
** FILE **
Douglas Ernst
Hillary Clinton says "domestic terrorism" has come to America via armed and angry quarantine protesters in Michigan.
The former secretary of state blasted citizens who showed up outside the state's capital building this week to protest Democratic Gov. Gretchen Whitmer's handling of the coronavirus pandemic, which has claimed the lives of roughly 87,000 Americans nationwide.
"Armed men storming a legislature to disrupt its democratic proceedings is domestic terrorism," Mrs. Clinton wrote. "It cannot be tolerated."
The failed presidential candidate's tweet linked to a Newsweek article on the situation, which involved private invitation-only Facebook groups; random members expressed a desire for the governor to "be hanged, lynched, shot, beaten or beheaded."
"Whitmer and Attorney General Dana Nessel have considered banning firearms from the Capitol building but are awaiting the six-member Michigan State Capitol Commission to figure out if they have the legal authority to do so," Newsweek reported.
The Detroit Free Press reported on Thursday that police departments are struggling with how and when to for compliance with the governor's executive orders.
"Amid hubbub surrounding an Owosso barber working in defiance of her order, Shiawassee County Sheriff Brian BeGole issued a letter Monday saying that while the judicial branch weighed Whitmer's choice to extend a state of emergency without the Legislature's OK, his officers won't actively enforce the governor's mandates," the newspaper reported.
Livingston County Sheriff Mike Murphy told the Livingston Press & Argus concurred.
"His office has 'basically decided to not do any enforcement," even as a gym opened in direct defiance this month," the newspaper reported.