'Anti-fascist' movement likened to Allied soldiers fighting Nazi Germany.
Antifa only attacks those who are prohibited from fighting back. Faced with an enemy who is willing to kill the enemy at all costs, those in the movement would rather destroy children in the womb instead of the Chinese Army. Cowards who show up to protest armed with weapons to maim.
...tmiraldi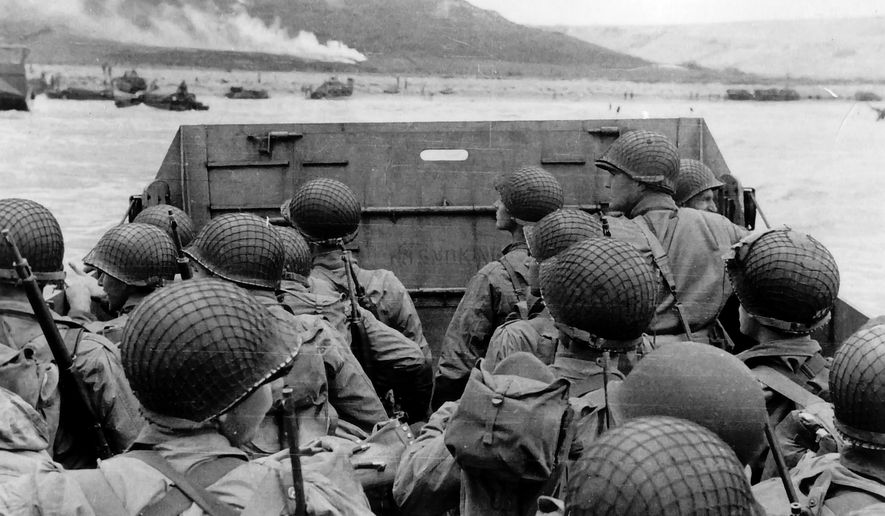 American troops approach Omaha Beach on June 6, 1944 - D-Day. (U.S. Army photo/file)
Valerie Richardson
The 76th anniversary of D-Day prompted journalists and others to compare the Allied soldiers who stormed the Normandy beaches to defeat Nazi Germany to the black-masked anti-cop anarchists accused of wreaking havoc on U.S. cities.
"Friend points out on D-Day anniversary that the men who stormed the beaches of Normandy were the true and original antifa," tweeted Washington Post reporter Paul Farhi.
Antifa, the underground left-wing anti-capitalist protest movement, stands for "anti-fascist." The administration has accused the group of driving the violent rioting on the heels of protests over the March 25 death of George Floyd in Minneapolis police custody.
Said National Public Radio's Mara Liasson: "Biggest antifa rally in history," linking to a photo of the World War II beach landing that saw 160,000 U.S., British, Canadian and other troops descend on Normandy, France, resulting in more than 9,000 casualties.
Matt Duss, foreign policy advisor for Sen. Bernard Sanders' 2020 bid for the Democratic presidential nomination, tweeted, "June 6, 1944. Largest ANTIFA operation in history."
Needless to say, the backlash was fierce. Meghan McCain, co-host of ABC's "The View," called Ms. Liasson's tweet "wildly and grossly disrespectful to our greatest generation of veterans. Not to mention just … historically ignorant."
"Yes, because crushing Hitler is exactly like burning down a mom & pop store in NY & throwing liquid cement into the faces of fellow Americans," tweeted Fox Nation host Tammy Bruce. "For all those heroes who suffered the D-DAY invasion, how dare you compare them to terrorists. What the hell is wrong w you @maraliasson?"
Erielle Davidson, associate director of the Center for Middle East and International Law at George Mason University, tweeted, "D-Day soldiers defeated anti-Semitic fascists. Antifa is busy defacing synagogues. Enough of this gaslighting. It's so pathetic."
The Antifa-Greatest Generation comparison may have been started by comedian Patton Oswalt, who responded to President Trump's March 30 tweet vowing to designate Antifa as a domestic-terrorism organization with a sarcastic message of support.
"I'm 100% with you Donald! Antifa has been horrible for so long," tweeted Mr. Oswalt, who appears on ABC's "Agents of S.H.I.E.D." "Here's some anti-fascists ruining a perfectly good beach day in France! Wish you could have been there to stop them!"
ProgressNow Colorado executive director Ian Silverii tweeted Saturday, "Antifascism: An American tradition. Happy Day-Day, we're going to win again," prompting a back-and-forth with Centennial Institute executive director Jeff Hunt.
"You're comparing D-Day, the fight against Nazis with who? Fellow Americans?! Who are the [comparable] fascists you are fighting today? Police?" asked Mr. Hunt.
Mr. Silverii replied, "You." Mr. Hunt responded: "Christian conservatives are on par with Nazis? You're insane," to which Mr. Silverii responded, "No, just you."
Mr. Hunt said he filed a police report with the Douglas County Sheriff's Department, but
Mr. Silverii was unrepentant. "Jeff what did the cops say?" he tweeted.
Portland journalist Andy Ngo filed a lawsuit Friday in Oregon state court against the Rose City Antifa, asking for $900,000 in damages for a series of assaults and threats last year, including an episode in which he suffered a brain hemorrhage after being beaten and doused with milkshakes at a rally.