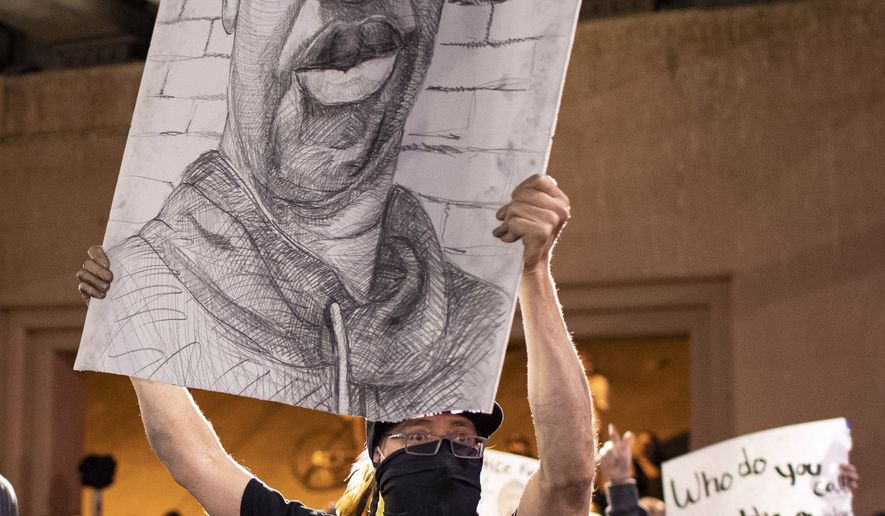 A demonstrator holds up a drawing depicting George Floyd in Albuquerque, N.M., Sunday, May 31, 2020. Protests were held in U.S. cities over the death of Floyd, a black man who died after being restrained by Minneapolis
police
officers on May 25. (AP Photo/Andres Leighton)
The day the world learned that Martin Luther King became a martyr has left an indelible mark, April 4, 1968, on the soul of humanity, because he reached out to the minds and hearts in America.
As a D.C. resident, I was overcome that fateful night. An American lockdown. No schooling, no socializing. Fires blazing about the city. National Guardsmen and local police watching every move — of the rioters and curfew breakers.
It's time to realize and accept this: Every time a politician, protester or policymaker cites "systemic" racism as the cause for violence and breaking the law, it gives pause to offenders.
Systemic racism shouldn't be the defense of former Minneapolis police officer Derek Chauvin for killing George Floyd. Mr. Chauvin kept his knee braced on the neck of Mr. Floyd for so long until the suspected counterfeiter stopped breathing, even after Mr. Floyd said, "I can't breathe."
Systemic racism didn't gun down Trayvon Martin, who was walking home when errant busybody George Zimmerman fatally shot him.
Systemic racism didn't lead a woman walking her pooch in Central Park to phone 911 and claim a black man was threatening her.
When things like this happen, stop blaming systemic racism.
Systemic racism means no blacks, no Asians, no Hispanics allowed.
Systemic racism means only white women can climb Hollywood and Broadway to success.
Systemic racism means only brown and black kids get labeled as underprivileged.
Systemic racism didn't cut down the lives of John F. Kennedy and Malcolm X, Robert F. Kennedy and Medgar Evers.
Nor were protesters who walked with Martin Luther King across the Edmund Pettus Bridge in Selma, Alabama, in 1965.
For sure, King, who was murdered by James Earl Ray, was a messenger, and his nonviolence messages angered Southern whites in particular because he was a leading voice of law and order, too, as well as nonviolence.
Those Pettus bridge protesters anticipated breathing tear gas and anything else law enforcement tossed their way, and that didn't change until the eyes of cameras and reporters unafraid to venture into the violence began telling the truth, the whole truth and nothing but the truth.
Right now, however, we're all masked up, hiding ourselves from COVID-19. Behind the masks, though, hide the faces of people who, in the name of peaceable assembly, want justice for George Floyd. In their midst, are hooligans and hellraisers, people who want to tear America apart.
Like most of us have already seen in the Floyd case and like the cameras that were trained on the Selma bridge in 1965, justice will come for George Floyd.
Be very cautious, though. Do not deliberately slip down the blindfold of Justice since we've become accustomed to covering our mouths and labeling everything systemic racism.