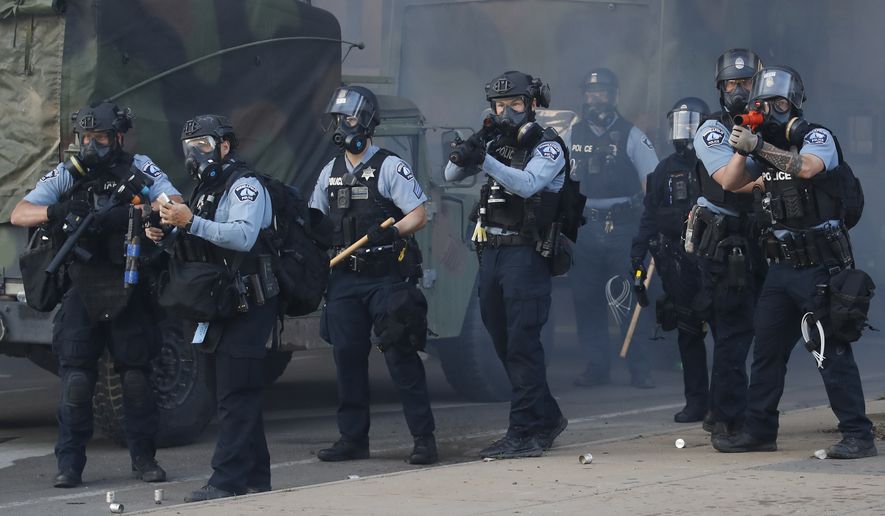 Police fire tear gas and less-lethal rounds at protesters during a demonstration at the intersection of East Lake Street and Hiawatha Avenue, Friday, May 29, 2020, in St. Paul, Minn. Protests continued following the death of
George Floyd, who died after being restrained by Minneapolis police officers on Memorial Day. (AP Photo/John Minchillo)
Ralph Z. Hallow
ANALYSIS/OPINION:
Minnesota government and police officials raised pant legs to reveal something ugly on Saturday.
They showed they were up to their ankles in shared criminal liability with Antifa, Black Lives Matter and those ordinary Minnesotan rioters of African descent.
Those ordinary, non-professional rioters let loose an endless string of verbal nonsequiturs and destructive violence. They lit up our flat screens through Friday night and into Saturday morning.
Those ordinary citizen rioters sprouted gibberish about systemic racism when incredulous TV reporters asked why the looting and burning.
The hand-wringing, cringingly apologetic Minnesota officials don't understand their audience.
(To be fair to Minnesota, practically every other city that succumbed to rioting in the last few days had officials blabbing as idiotically and apolitically as those in Minneapolis and Minnesota.)
The audience for Minnesota's officials is, again, those ordinary citizen looters and arsonists, not the professional agitators.
The one audience Minnesota officials should be trying to reach is certainly not the peaceful protesters.
The law-abiding demonstrators don't need the governor, the mayor or the police chief to tell them that their city, their state and their nation are irremediably racist and therefore the rioters' rage is understandable. Law-abiding demonstrators don't need to told that the answer is not to loot America blind and burn it to the ground.
Nor do Minnesota's pathetic collection of elected and appointed officials understand how that audience of ordinary citizen rioters interprets the self-defeating message that these same officials spew.
To a person, these officials are apologetic for being Caucasian and for supposedly living in — here we go again — a systemically racist America.
Or if the Minnesota officials are of Asian or African descent, they repeat the same apology as if they were Caucasian.
That is, of course, just what the professional Caucasian outside agitators, financed perhaps by foreign sources, want.
The ordinary Minnesotan citizen rioters interpret the government-law enforcement apology as confirmation that America is an irremediably racist society.
So damaging it is the only recourse. Burning and looting are justified.
Nonsense.
America has made such undeniable strides in race and ethnicity, both institutionally and culturally, that it's absurd to claim racism is our defining characteristic.
Instances of police killing people who resist arrest have to be judged case by case as to whether racial animus or legitimate self-defense drove the incident.
This in an America over whose information media liberals have had their own knee for decades.
The problem in judging fairly is that there are two kinds of liberals.
One kind of liberal is an apologist — witting or unwitting — for the Antifa types out to use ordinary citizen looters and arsonists as marauding bots to destroy the republic.
The other, typified at least in the following instance by Van Jones, a former adviser to then-President Obama.
Mr. Jones gets it. He sees right through to the rotten core of Caucasian, liberal-racist hypocrisy.
"It's not the racist white person who is in the Ku Klux Klan that we have to worry about," Mr. Jones said on CNN. "It's the white, liberal Hillary Clinton supporter walking her dog in Central Park who would tell you right now, 'Oh I don't see race … I see all people the same, I give to charities.'"
"But the minute she sees a black man who she does not respect, or who she has a slight thought against, she weaponized race like she had been trained by the Aryan Nation," Mr. Jones said. "A Klan member could not have been better trained to pick up her phone and tell the police it's a black man."
"What you're seeing now is a curtain falling away," Mr. Jones added. "Those of us who have been burdened by this every minute, every second of our entire lives are fragile right now. We are tired."
He was alluding to Amy Cooper — one doozy of a Caucasian hypocrite.
She called the cops on a bird watcher of African heritage in New York's Central Park on Monday.
The man's offense?
He had politely asked her to put a leash on her dog, as required by park rules.
Ms. Cooper kept claiming falsely to the police dispatcher that the a "black man" was threatening her.
White liberal racism at work?
You bet.
But this awful woman is not America.
(Her employer, by the way, fired her for her racist actions.)
Far more Americans are personally committed to Ronald Reagan's vision of a colorblind America than Amy Cooper's distortion — or to Antifa-like manipulation.