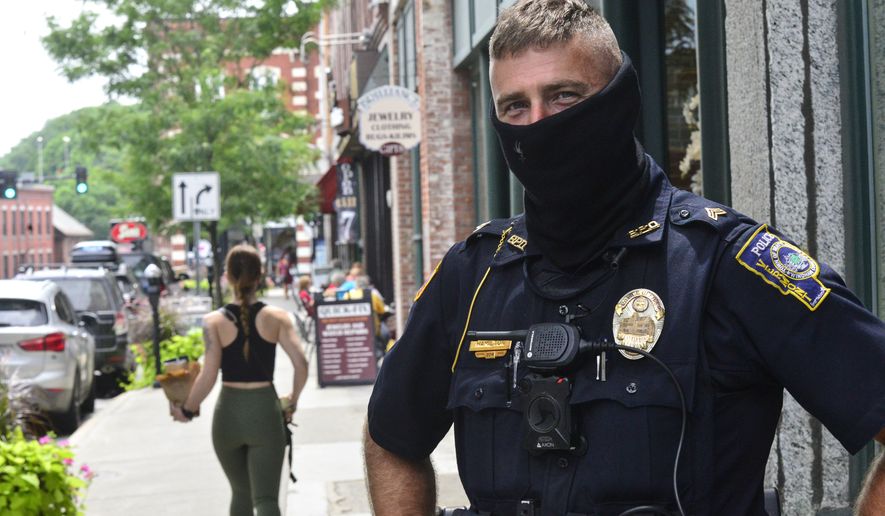 Brattleboro, Vt., Police Officer Jason Hamilton patrols around Brattleboro while wearing a mask on Friday, July 24, 2020. Vermont Gov. Phil Scott said in a press conference that starting Aug. 1, masks will be mandatory in public.
(Kristopher Radder/The Brattleboro Reformer via AP)
THE WASHINGTON TIMES
ANALYSIS/OPINION:
When the weather forecast says rain, the smart set carry an umbrella. When storm clouds of social unrest gather, there is every reason to procure protection. The onset of alarm, triggered first by coronavirus-caused economic collapse, then by racial strife, has left citizens from coast to coast fearing for their safety. With widespread talk of defunding the police adding to anxiety, Americans are doing what common sense dictates: buying firearms. Somewhere, drafters of the Second Amendment must be fist-bumping — gravely, of course.
Gun sales nationwide underwent a semi-surge with the onset of the coronavirus lockdowns in March, then skyrocketed when racially charged riots flared in cities large and small following the Memorial Day death of George Floyd in Minneapolis. Nearly 3 million firearms have been sold since March above the ordinary U.S. level of purchases. Half of the additional sales came in June alone.
The predictable trend was reported in a study published last week by the liberal-leaning Brookings Institute: "In March, concerns about personal safety arose from both a deadly new virus and an economy in free fall," wrote Phillip Levine and Robin McKnight, economics professors at Wellesley College in Massachusetts. "By June, concerns about the virus and the economy remained, and were compounded by new evidence of racial injustice in policing, widespread protests, and discussions of defunding the police."
Digging into FBI statistics on background checks required for the completion of gun sales, the researchers found a baseline of about 92,000 daily checks during January and February. Following President Trump's March 13 COVID-19 national emergency proclamation, the number surged to 176,000 three days later. Sales then fell back to a level slightly higher than the baseline as the nation underwent lockdowns and gradual reopenings during the next two months.
In rapid succession, the death of Floyd, the torching of a Minneapolis police station and the eruption of violence at a Black Lives Matter protest in Washington, D.C.'s Lafayette Park and elsewhere coincided with a fresh spike in firearm background checks.
All told, the Brookings study claims about 19 million guns have been sold during the first six months of 2020. "The presence of so many guns complicates discussions of public policy," the authors write, including issues of racial injustice, police misconduct and, particularly, defunding of the police. "When public goods are not provided by the government, or are provided on a scale that some consider to be inadequate, individuals turn to private provision of these services." Put more bluntly, if the cops can't protect life and property, Americans will do it themselves.
An estimated 40 percent of the recent buyers have never owned a firearm before and would not do so were it not for the rising civil unrest. "I don't want to ever shoot anybody ever," one Minneapolis purchaser told Crime and Justice News. "But if I had to duck and shoot back in self-defense, at least I'd have a chance."
For peace-loving Americans, imagining the horror of firing at another human being is only slightly less painful than the thought of looking down the barrel of a gun with nothing for protection but open palms. The fear of helplessness in the face of a mortal threat is the reason 65% of men and 71% of women give for arming themselves, according to a 2019 Pew Research Center survey.
Most Americans by nature wish for "a more perfect union," but there are some who choose to flaunt the darkness of their souls by dressing in black and attempting to burn it down. Ruination awaits Black, White and every race in between if they succeed. It's not surprising that while 25% of respondents to a separate Pew poll want the police defunded, 42% wish the funding to remain steady and another 31% want it increased.
There is virtue in the call for justice for all, but high-minded demonstrators who allow low-life rioters to hijack their cause for anti-American designs have managed to shoot themselves in the foot. The persistent dalliance with disorder playing out on the nation's streets is validating the wisdom of the U.S. Constitution and, in particular, the Second Amendment. Americans have no intention of surrendering their right to keep and bear arms. Witnessing the advance of trouble, they are biting the bullet and arming up.